Iona, Scotland
An Antipodean travel company serving World Travellers since 1983
Isle of Iona, Scotland
An island in the Inner Hebrides, lying just off of Mull, Iona is a tiny piece of land, measuring just 6 km long by 2 km wide. However, Iona's tiny size does not reflect its meaning or relevance to Scotland. Aesthetically beautiful and historically important, Iona is famous for its beautiful abbey and for being something of a symbolic centre of Scottish Christianity. Today, with its white sandy beaches, beautiful scenery and protected wildlife, Iona actively promotes ecotourism and is a fair-trade island. With a population of 200, the main settlement on the island is known colloquially as The Village.
The History of Iona
Iona has a long history but many refer to its starting point as 563 when the monk St Columba founded the monastery on the island, after having been exiled from his native Ireland. After being expelled to the tiny island along with 12 companions, Columba established the abbey which went on to be hugely successful and instrumental in Columba's efforts to convert the Picts of present-day Scotland to Christianity. Over the 6th and 7th centuries, many satellite monasteries were founded, creating important monastic networks across Great Britain.
In the late 8th century, Vikings began raiding the island and in 806, 68 monks were killed by them. By 849 the monks decided to abandon the monastery, given its exposed position, and Columba's relics were split up between Scotland and Ireland.
In the 10th century, the abbey's relevance was revived when the Vikings converted to Christianity and many married with the local Gaelic population. This led to new building works on Iona, including the construction of St Oran's Chapel. In 1200 AD, Raghnall, the son of the King of Islaes, established a convent for Benedictine nuns around 1208 and it is thought the current Iona Abbey was built in 1203. Raghnall's sister, Bethag, was instated as the first prioress.
In 1491, the Lordship of the Isles was dissolved, and Scotland gained control of Iona. The monastery and nunnery were active until the Reformation, when the buildings were demolished and the carved crosses, that were the origins of the Celtic cross, were destroyed. They abbey lay in ruins for centuries and in 1899 they were given to the Church of Scotland. In 1910, a Ecumenical Christian group called the Iona Community Council was founded there. The group reconstructed and restored the ruined abbey and it is still an active spiritual community today.
Join 22,383 travellers receiving our weekly newsletter.




Special offers and promotions
$350 AUD travel voucher for your first trip
The latest tours and articles
What to See in Iona
The must-see site in Iona is the Iona Abbey. Ancient but reconstructed, it is the heart and soul of the island and a powerful space. It is a mix of Gothic and Romanesque architectural styles with a spectacular nave, vaults and columns. You'll also find a museum on sight which displays replicas of the carved high crosses and other inscribed stones, as well as important historical information. Next to the monastery is an ancient graveyard where as many as 48 early Scottish kings are buried (including Macbeth) and kings from Ireland, Norway and France. It is also the burial place of several early chiefs of the clan Maclean.  At Iona's Heritage Centre offers further insight into island life, examining the isle's history crofting and lighthouses.
Iona has become an important site for pilgrims and many visitors come to the island solely to see the Abbey or for a spiritual retreat of sorts. However, as well as they abbey, there is more to explore on the island. For nature lovers, Iona is a paradise with verdant scenery. The wildflowers are magnificent and you can expect to see seas of orchids, sea holly and thistles. Bird watchers will be enthralled by the puffins, great northern divers, sea eagles and rare corncrakes. The beaches are postcard-perfect with white sand and turquoise water but the weather means sunbathing isn't an ideal option. However, you can enjoy the sealife. The waters around Iona attract basking sharks, the world's second largest fish, orcas, minke and pilot whales, dolphins, sunfish, otters and seals. One of the most magnificent aspects of Iona is the amount of unique wildlife in such a tiny geographical area and one option for those interested in seeing these animals is a wildlife cruise around the coast. Ten kilometres north of Iona is the uninhabited island of Staffa, famed for its large colony of puffins, dramatic landscapes and the sea cave Fingals Cave. Staffa can be reached on a boat trip from the island of Iona and a round trip takes around 3 hours, including time on the island.
For those who want to stay on the land, the great thing about Iona is that it is small enough to be explored on foot and the best thing one can do is simply to go for a walk. There are a variety of hikes or a walking tour with a local guide is also an option. Otherwise, a simple stroll along the beaches can be magnificent in its own right.
Getting to Iona
The only way to get to Iona is by boat and most vehicles are not allowed on Iona, so it is best to come without one. You can get a ferry from the Isle of Mull. The departure point on Mull is at Fionnphort, a harbour town and the second largest settlement on Mull. The ferry crossing takes less than ten minutes! There is plenty to explore on Mull as well including the charming town of Tobermory with its coloured houses and the 13th-century Duart Castle.
If you're interested in visiting this wonderful island, our Odyssey tour Scotland: 5000 years of history visits Iona, as well as the Isle of Mull. We also visit Iona and the abbey on our Scottish Whisky and Other Wonders tour.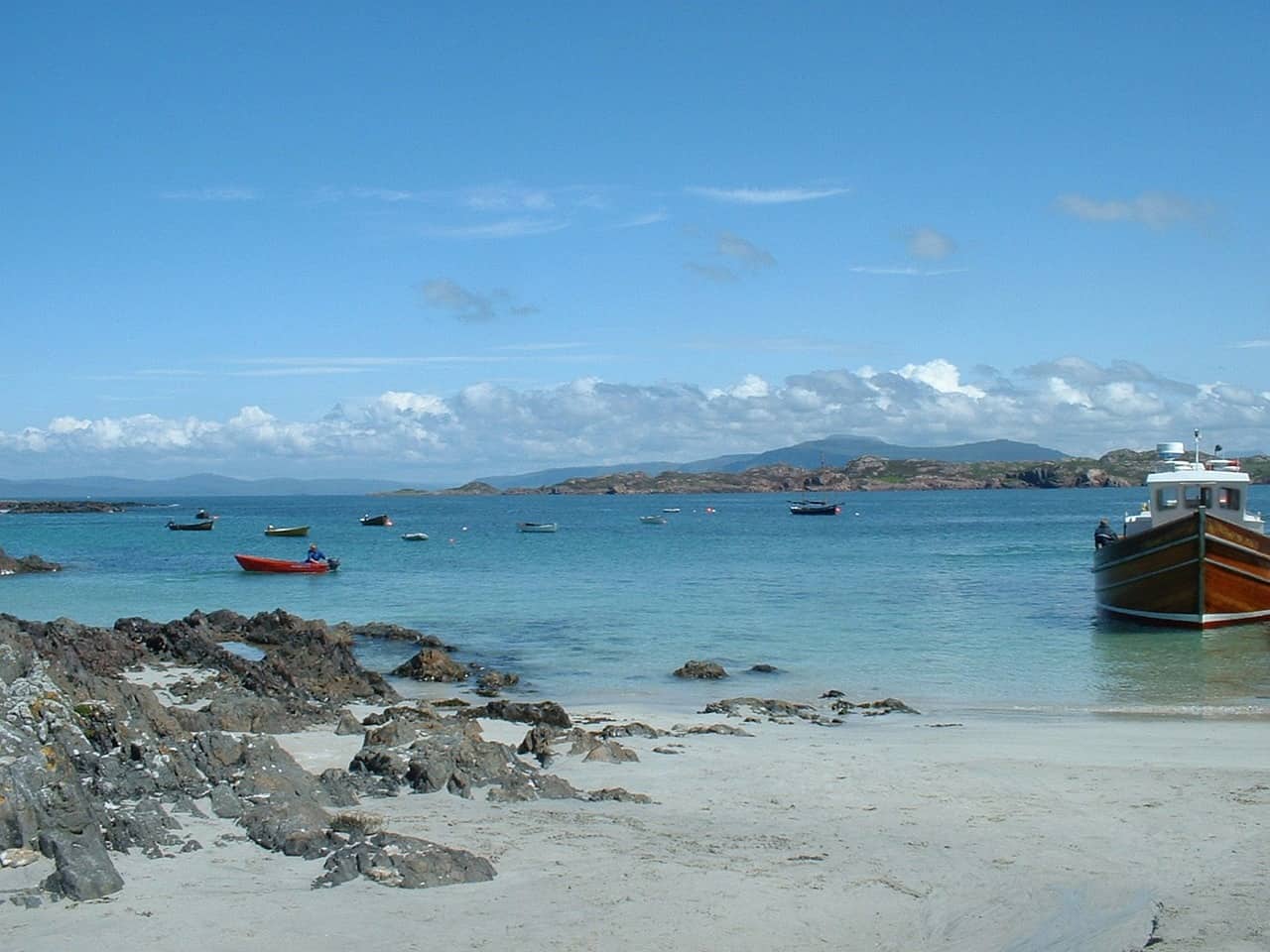 Articles about Scotland published by Odyssey Traveller.
The following list of articles published by odyssey Traveller for mature aged and senior travellers to maximise their knowledge and enjoyment of Scotland when visiting:
For all the articles Odyssey Traveller has published for mature aged and senior travellers, click through on this link.
External articles to assist you on your visit to Scotland
Related Tours
A guided small group tour of Scotland is a day tour collection  that includes Edinburgh, the royal mile, Edinburgh castle, and the old town a UNESCO World heritage site Experience and learn about, Kellie castle, St Andrews, Skye,  Balmoral castle, Loch Lomond and Loch Ness as well touring the Scottish highlands to finish in Glasgow.
This guided tour of Scotland with a tour leader and local guides includes the isle of Skye, Orkney islands, the Scottish highlands with breathtaking scenery. Edinburgh including the royal mile, Palace of Holyroodhouse, Fort William, Urquhart castle, Stirling castle, loch lomond, Hadrians wall and New Lanark also a UNESCO World heritage site.