Questions About France
An Antipodean travel company serving world travellers since 1983
Questions About France for senior travellers.
Odyssey Traveller specialises in crafting unforgettable experiences for senior and mature-aged travellers who are interested in learning as they travel as a couple or as a solo traveller. Providing adventure and educational programs to escorted small group tours since 1983. Odyssey has built up a reasonable knowledge bank to answer questions about France that travellers are likely to ask, as they make their plans to tour independently, or with us as part of a small group tour. We hope that this list of frequently asked questions and the answers we provide will help you with planning your next holiday.
Read on, but please do not hesitate to contact us via the website, or through email or chat if you have more questions about France or our other tours.
FAQs
France is located at the heart of Western Europe. It is bordered by Italy and Spain to the south, Switzerland to the east, Germany, Belgium, and Luxembourg to the North, and (across the English Channel) the United Kingdom to the North-West.
Located between Northern and Southern Europe, the British Isles and the Mediterranean, France 'has long provided a geographic, economic, and linguistic bridge' joining the regions of Europe (Britannica), while maintaining its own unique and influential culture. The third biggest country in Europe by area, after Russia and the Ukraine, France has long been one of the most powerful, casting an influence felt both in Europe and across the globe.
During the Roman Empire, the region known as France today was referred to as Gallia, or Gaul. Following the end of the Roman Empire, the region was associated with a Germanic tribe known as the Franks, and when a monarchy was established it became known in Latin as Francia, or the Frankish Empire. From Francia the modern English term France was derived.
Where the term 'Frank' comes from is an issue of historical debate. Some have linked it to the term 'frank' (free) in English, as after the conquest of Gaul, only the Franks were free of taxation. Others theorise that it comes from the proto-Germanic word *frankon or javelin. In Latin, the throwing axe of the Franks was known as francisca. Other scholars have suggested that these weapons were named because of their association with the Franks, not the other way around.
To the ancient Romans, France, along with a significant portion of Belgium, the Netherlands and Germany was known as 'Transalpine Gaul', which was populated by Celtic tribes. In 121 BC the Roman Republic took land surrounding modern day Provence, and the remainder of Gaul was seized during the reign of Julius Caesar (from 58 to 50 BC). Gaul was quickly assimilated into the Roman Empire, and became a centre of culture and writing.
During the empire's period of decline, Gaul was subject to successive Germanic invasions, as Franks, Burgundians, and Visigoths all settled in Gaul. The culture remained Roman, however, and newcomers converted to Christianity.
From 481 to 511, Clovis I consolidated all of the Frankish tribes under one kingdom, though this was divided between his four sons on his death.
France remained divided until the reign of Charlemagne (747?-814), now regarded as the founding father of France. Charlemagne unified most of France, and extended his empire into what is now Germany and Italy.
Following the death of Charlemagne's grandson, Lothar I, the Frankish Empire was divided into three kingdoms. The region of West Francia, given to his son Charles the Bald, would become the precursor to modern France.
In 987, Hugh Capet was proclaimed King of France. His successors would add extensive territory to West Francia. The Kingdom of France was declared in 1180 by Phillip II Augustus, essentially establishing what would become modern-day France.
Join 22,383 travellers receiving our weekly newsletter.




Special offers and promotions
$350 AUD travel voucher for your first trip
The latest tours and articles
FAQs
The international celebration of French food as the height of fine dining neglects the heavily localised and diverse nature of French food. Regional specialties include crêpes (Brittany), bouillabaisse (Marseille) and cassoulet (Toulouse).
France is also home to over 500 varieties of cheese. Wine has been a part of French culture since the Roman Empire, and today there are dozens of wine producing regions around France, including Bordeaux, Burgundy, Provence, the Loire Valley, and Champagne. Indicating the seriousness with which wine is treated, the French government regulates that only certain grapes can be grown in certain regions, and determines what land can be used for vineyards.
French bread is a cultural icon, served with virtually every meal. No matter where you go, you'll likely encounter a boulangerie selling all kinds of bread. Pastries and baked goods are another specialty of the French, including croissants, tartes (tarts) and gâteaux (cakes).
The climate in France varies considerably, with four major climate regions. The western coast of France has a rainy and cool climate, with little variation between seasons, while inland has a continental climate of hot summers and cold winters. The Mediterranean has a hot dry summer and a mild winter, and the final region, the French Alps have a mountain climate, with snow three to six months a year.
If you're concerned about the future of the iconic Notre Dame cathedral, following the devastating fire in April 2019, there's good news – the French senate has recently voted to rebuild the cathedral in medieval style.
Difficulties have emerged, however, regarding the roof of the cathedral – which was built out of 800-year-old oaks. There are concerns that there might not be enough oaks extant to rebuild the roof – though some historians have asserted that the Baltic states might hold enough tall trees.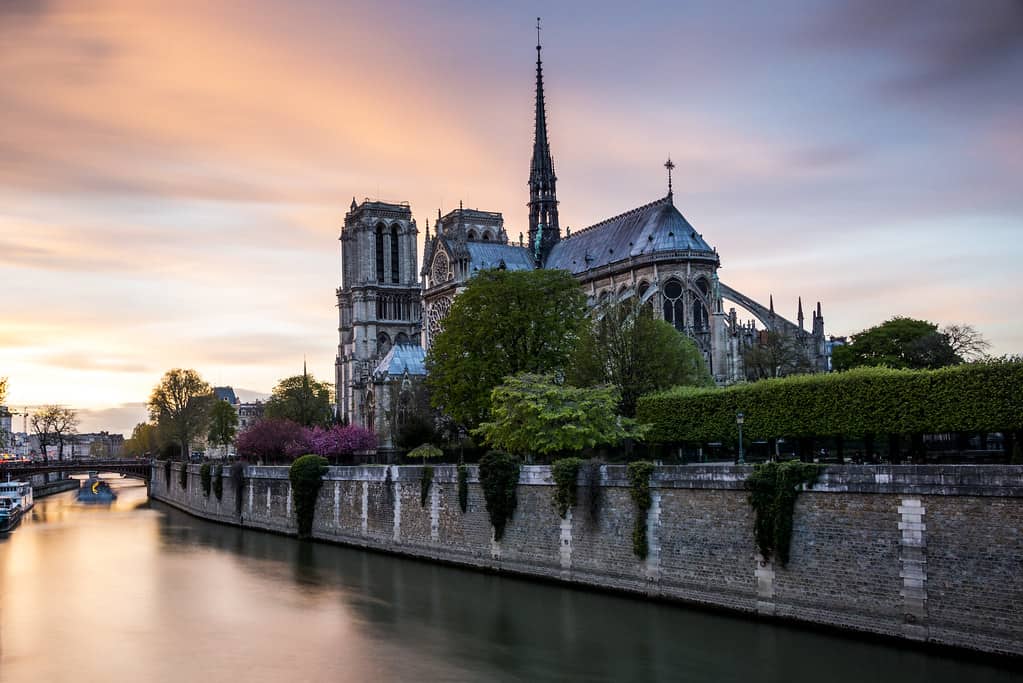 If this article has made you interested in visiting (or re-visiting) France, why not join an Odyssey Traveller tour? Reflecting the richness of French history, culture and scenery, we offer over 20 tours of France. Each offers a diverse perspective on France, lead by experts and local tour guides so that you have a culturally rich and authentic experience.