Matera, Italy
An Antipodean travel company serving World Travellers since 1983
Matera, Italy
The ancient city of Matera, in southern Italy, is among the world's oldest continuously inhabited cities, a place of primordial beauty, where cave houses are carved directly into ancient cliffs. Long a place of poverty and dislocation, Matera is undergoing a rebirth, as locals take pride in their distinctive history and entrepreneurs are opening up the city's ancient cave dwellings (known as the sassi di Matera) to travellers from around the world.
Archaeologists debate the precise age of Matera. A hominid skeleton, more than 150, 000 years old, was found in a cave nearby; archaeologists have found tools and bones from over 10, 000 years ago. By the Bronze Age, Matera was a significant settlement, making it the world's third oldest continuously inhabited city, after Aleppo in Syria and Jericho on the West Bank.
Like the surrounding regions of Southern Italy, Matera passed from ruler to ruler through the classical and medieval periods. Greeks, Romans, Byzantines, Arabs, Normans, Germans, and Spanish Bourbons have all claimed this land. Yet, throughout all this, life in Matera barely changed. Over millennia, locals here farmed the fertile surrounding plains by day, and returned to cave homes carved into the cliffs by night. Communal life was largely lived outside, in small courtyards known as vicinati. The locals spoke a particular dialect, with its own rituals and songs, and baked a distinctive horn-shaped bread that was leavened slowly, allowing it to stay fresh for a week.
Though the 18th and early 19th centuries brought streams of wealthy tourists from around Europe to Italy, to see the great art and architecture of ancient Rome and the Renaissance, Matera was passed by. The surrounding region was home to briganti, or brigands that made it dangerous for travellers to pass through. In an industrial era, the traditional life of the sassi-dwellers came to seem grotesque. Well-off residents moved to the piano – a recently settled, flat section of the hilltop. The sassi became deeply impoverished. The caves had no natural light, ventilation or sanitation; people lived alongside their animals. Huge families crowded into small caves. These conditions spread malaria, cholera, and other diseases. However, through all this, the cave population continued to grow – by 1900, over 15,000 people lived in 1,500 caves.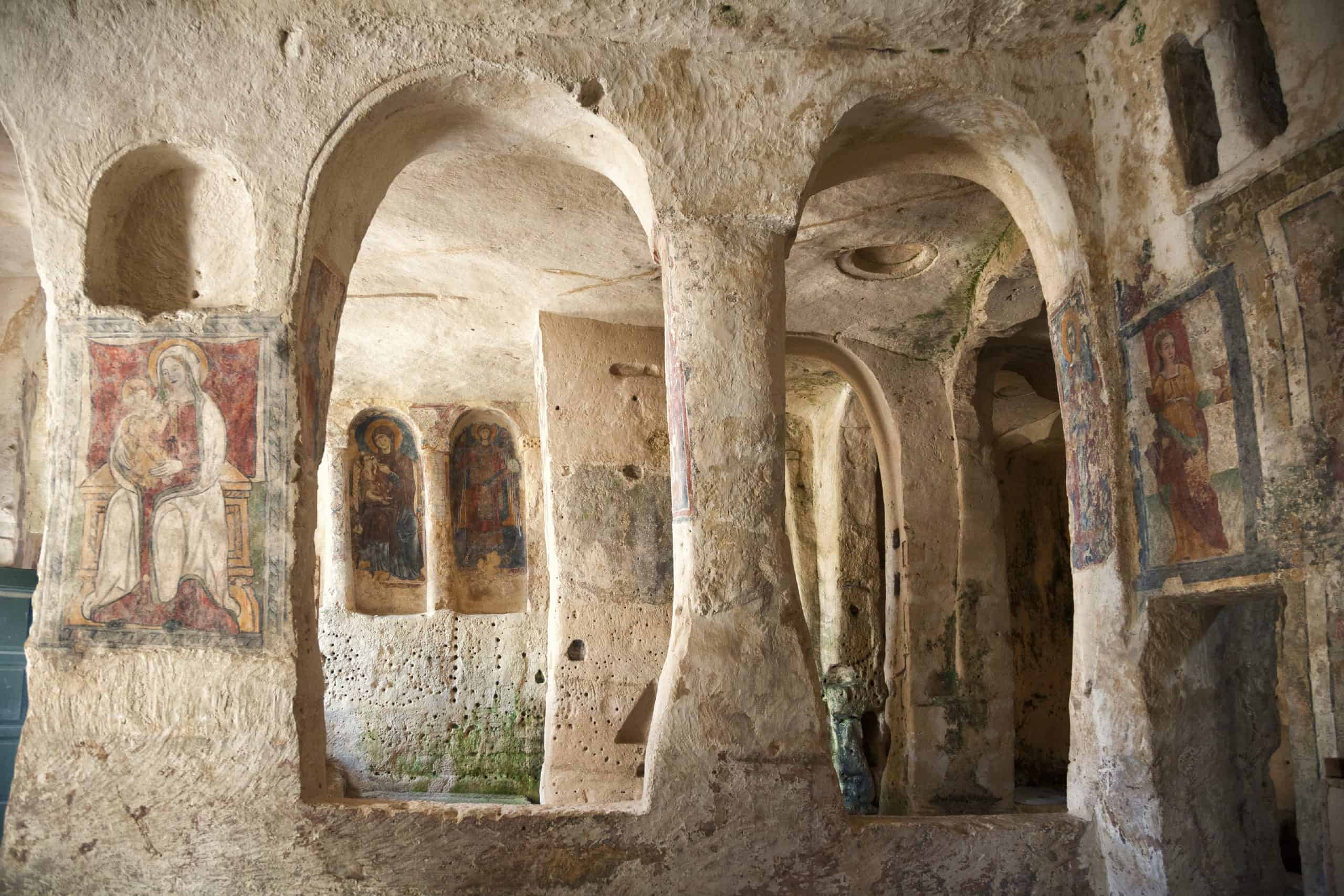 Matera's obscurity ended in 1945. In the 1930s, the Turinese doctor and anti-fascist Carlo Levi, was exiled in Basilicata for his opposition to Mussolini's rule. After the war, Levi turned his experiences into the autobiographical novel, Christ Stopped at Eboli. The title (Eboli is a town to the south of Naples) refers to the idea that Southern Italy – long poorer and less developed than the north – had been bypassed by Christianity and civilisation, remaining a pagan land riddled with ancient superstition. Levi wrote evocatively of the poverty he encountered. Though he visited Matera only briefly, his description was vivid: the town was 'like a schoolboy's idea of Dante's Inferno'. 'I have never in my life seen such a picture of poverty,' he concluded.
Though many towns in Southern Italy were deeply impoverished, the idea of people living in caves particularly grabbed the nation's attention. In 1950, the Italian Prime Minister Alcide De Gasperi visited the caves. Declaring them a 'national disgrace', he put in motion plans for the removal of their inhabitants. Italy used Marshall Plan funds to hire Italy's top architects to develop modernist dwellings, at first houses, then housing estates. Though the architects tried to respect the communal lifestyles of the sassi's inhabitants, their courtyards did not naturally fit into the houses they built, and communal traditions evaporated in their new home.
Meanwhile, the sassi remained abandoned, developing a reputation as a hotspot for crime. However, in the 1960s and 1970s, the desolation of these ancient dwellings moved couples and families – locals and others from all around Italy – who began to move into the sassi, restoring their properties with modern plumbing. In 1986, the Italian government offered subsidies cutting the cost of restoration work in half. Small shops began to appear, followed by a software company in 1992. Matera was used as a stand-in for Christ's Jerusalem in a number of movies, including Pier Paolo Pasolini's The Gospel According to St. Matthew and Mel Gibson's The Passion of the Christ. 
In 1993, UNESCO awarded the sassi World Heritage status, and tourists began to come to Matera. Today, the caves have been transformed into boutique hotels, Air B and B's, restaurants, wine cellars, and even a jazz club. Residents – who ironically refer to themselves as troglodytes (or cave dwellers) – continue to inhabit the caves today.
The main thing to do here is walk through the caves, soaking up the stark beauty of this ancient city. Look out for the rock-hewn churches, including the beautiful 12th century Chiesa San Pietro Barisano and the Chiesa di Madonna delle Virtù, a fascinating monastery carved into limestone rock dating back to the 12th century. The Romanesque exterior of the Cathedral belies a exuberant and ornate baroque interior. Matera is also home to the Basilicata National Museum of Medieval and Modern Art, and the Museum of Contemporary Sculpture, built into deeply recessed caves lined with 16th century frescoes.
To learn more about the story of the caves, head to Casa Noha, a cave house converted into a multimedia museum. Amazing views of the sassi can be found at Belvedere, the location of the crucifixion in The Passion of the Christ. At the end of your day, make sure to have dinner at a cave hotel or restaurant and sample Aglianico del Vulture, a red wine grown in the surrounding district.
Most visitors to Matera fly into Bari aiport. The city is easily visited on a day trip from Bari, but think about staying in one of the many hotels in Matera for a truly unforgettable experience.
Those planning a trip should note that Matera can easily be combined into a broader tour of Southern Italy. Neighbouring Puglia is home to a number of extraordinary sights, from the trulli peasant dwellings of Alberobello to the geometric masterpiece of the Castel del Monte. On your Puglia road trip, make time to visit Gioia del Colle, the home of burrata cheese; Gravina, home to one of Frederick II's great churches; and baroque Lecce, famous as 'The Florence of the South'. A stark area of olive trees and ochre-coloured land, Puglia is home to Italy's longest coastline, with stunning beaches to rival the Amalfi Coast.
Articles about Southern Italy published by Odyssey Traveller:
For all the articles Odyssey Traveller has published for mature aged and senior travellers, click through on this link.
External articles to assist you on your visit to Basilicata and Southern Italy:
Related Tours
Departing Sep, Jan, May, Apr
On this small group tour of Italy and Malta we trace the life of Caravaggio, exploring the artistic works he left behind and the tumultuous life he led. We follow him from his birthplace in Milan to Rome, Malta, Sicily and Naples. In Rome Caravaggio established his name as a brilliant though controversial painter until, accused of murder, he was forced to flee south. In each place he lived Caravaggio left behind a rich legacy of art for us to admire.
A small group tour with like minded people that is based in Florence. An authentic experience of living in this Renaissance city  The daily itineraries draw on local guides to share their knowledge on this unique European tour. Trips to Pisa, Lucca and Perugia are included.
Departing Sep, Mar, Apr, Oct