Norway
Discover with Odyssey
Norway tours for seniors.
In 2017, Norway was named the world's happiest country according to the World Happiness Report, and it has remained towards the top of these rankings ever since. Apart from its stable economy, high standard of living, and strong welfare system, Norway is also rich in natural beauty–all of the factors contributing to a happy citizenry. Travellers taking a trip to Norway can take part in the joy of the country, viewing Norway's many breathtaking scenery, from rugged mountain ranges to verdant forests and spectacular glaciers and fjords.
While Norway is known generally for its epic natural landscapes, the fjords of Norway are simply breathtaking and most likely like nothing you have seen before. Geologically, a fjord is a long, narrow inlet with steep sides or cliffs, created when a glacier retreats creating a U-shaped sea undersea valley. Norway is home to nearly 1,200 fjords, some of which are UNESCO World Heritage-listed. Some fjords worth visiting include Geirangerfjorden, Lysefjord and Sognefjord–Norway's longest and deepest fjord stretching 204km with a depth that reaches 1308m.
Another highlight are the Lofoten Islands, off the coast of Northern Norway, with its beautiful scenery, clear blue waters, and spectacular mountains. The islands are a hiker's dream and there are unparalleled views of the surrounding Arctic waters. Dotted with idyllic villages and sheltered bays, this is one of Norway's most breathtaking spots.
In Oslo, visit the Vigeland Sculpture Park, the largest sculpture park in the world by a single artist, Norwegian sculptor Gustav Vigeland. Also in Oslo is the Munch Museum, dedicated to the life and work of Norwegian Modernist artist Edvard Munch, most famous for his painting The Scream.
Norway is also the perfect spot to witness the Northern Lights. In Northern Norway (and parts of central Norway) between late September and late March, you can witness this celestial wonder. There are a few areas that are deemed to be the best viewing spots but generally, weather allowing, they are easy to see in this part of the country.
The need to know
Touring Norway
Getting around
Odyssey travels by coach and occasionally uses local transport, including trains and ferries. Specifics are always outlined in your tour itinerary. NSB, the Norwegian State Railways, operates an extensive and well-developed rail network, while the country is well-served by domestic flight coverage. Nearly every town and city has a bus service, while passenger ferries can be an excellent way to not only get around, but also take in some wonderful scenery.
Accommodation
In major cities, Odyssey stays in centrally located 3-4 star hotels, with easy access to public transport. In smaller towns or rural areas, we usually stay in family-run hotels or guesthouses. On our longstay tours, during which you spend the length of the tour in a single location, we use serviced apartments.
Tour Guides
Odyssey always engages local guides with regional knowledge to ensure an authentic experience during which you can learn as much as possible about the history and culture of places you visit.
Geography, Environment, & Weather
Norway is the northernmost country of the Scandinavian peninsula, and faces the North Sea, North Atlantic Ocean and Barents Sea. Norway is dominated by mountains, with the country having an average elevation of 460 metres, while the country's famous fjords punctuate the landscape. Norway has a long and rugged coastline, and has some 50,000 islands across the length of its coast.
Norway has a milder climate than other areas of the world at a similar latitude due to the moderating effects of the North Atlantic Current. However, temperatures can drop below freezing over much of the country during winter, so pack some warm clothing if travelling between November and March.
World Heritage sites
Norway has 8 UNESCO World Heritage Sites. You can view the official list of the sites here (https://whc.unesco.org/en/statesparties/no). While every site is worth a look, here are a few highlights:
Bryggen, the historic harbour district of the city of Bergen
Vegaøyan, a archipelago just south of the Arctic Circle which still features the distinctive way of life based on fishing and hunting
Rock Art of Alta, featuring engravings and paintings that date back thousands of years.
Festivals & Events
Norway has a vibrant cultural scene, and has numerous festivals and events throughout the year. The Nordlysfestivalen (Northern Lights Festival) is a music festival that has been running in the city of Tromsø for 30 years, and features and ecletic range of musicians and musical groups. Gladmat is Norway's biggest food festival and plays host to over 200,000 foodies, travellers and chefs to the city of Stavanger for a taste of the southern Norway food scene. The Riddu Riddu Festival is held in July and celebrates the unique culture and traditions of the Sami people through music, literature and live performances.
Reading List
Moon Norway, by David Nikel
Growth of the Soil, by Knut Hamsun
Frommer's Norway, by Roger Norum
Sophie's World, by Jostein Gaarder
Eating & Drinking
Seafood features prominently in Norwegian cuisine, with rakfisk (preserved trout), lutefisk (preserved cod), and pickled herring all being amongst the country's most famous dishes. Bergensk fiskesuppe (a fish soup) is another example of Norway's seafood fare, and is often served with fish balls made from haddock, cod and pollock. Lefse, a traditional soft flatbread sweetened with butter, cinnamon and sugar, makes for a popular accompaniment to meals and is often a popular snack in its own right. If you're in the mood for a coffee while in Norway, you'll have come to the right place – Norwegians are the second highest consumers of coffee in the world. If you're looking for something stronger though, akevitt might be worth a try, as might glogg or mjød (mead).
Health & Safety
Generally Norway is very safe to travel around in, though always exercise common sense while travelling.
Electrical Supply
Whenever you travel overseas, it's always wise to take an appropriate travel adapter. The standard voltage in Norway is 230V, while the standard frequency is 50Hz. Norway uses both the Type C and Type F plug, so be sure you have an adapter handy as needed.
The best of Norway
Highlights
Urnes Stave Church
Urnes Stave Church, a 12th century wooden church that stands as a stunning example of Scandinavian wooden architecture.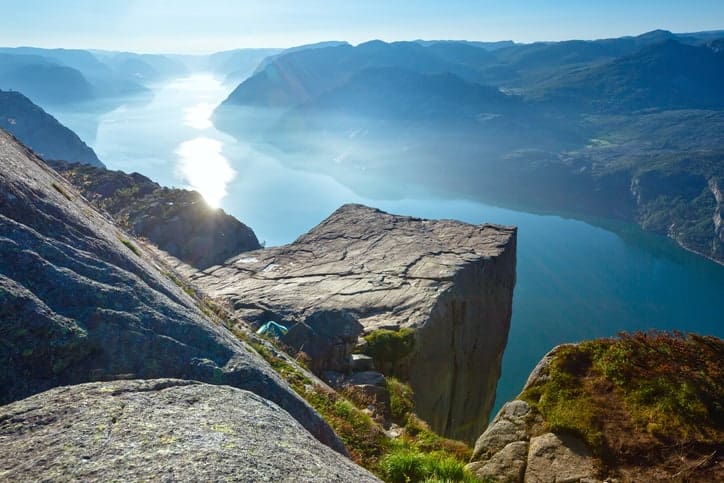 Lysefjord
Lysefjord, a fjord in the Ryfylke area in southwestern Norway featuring spectacular mountain views.
Flåm
Flåm, a small village nestled in some of the most picturesque scenery in Norway.
Tours for Mature Aged and Senior World Travellers
Norway Tours
Uncover a Viking past and view of the world's biggest fjords on this journey through Scandinavia. In low-lying Denmark we tour the Zeeland, the sea land, and our program includes the vibrant capital of Copenhagen. In Norway we travel through endless forests, skirting great fjords to Bergen. Extensions available in Tromsø or join our Norwegian Coastal Voyage.
We will experience serene snow-covered Arctic landscapes. Throughout our journey guides and specialists will outline the history of this stark region and the nature of the peoples who wrested their living from it.
Articles about Norway published by Odyssey Traveller.
For all the articles Odyssey Traveller has published for mature aged and senior travellers, click through on this link.
External articles to assist you on your visit to Norway.
Responsible travel tips for Norway
Learn at least the local greetings to break the ice. Although many locals speak English, the more you know of the native language, the greater your experience of the country will be.
Carry a business card in your wallet or purse from your local hotel, to assist you with the return journey if you do become lost.
Always ensure that you are covered by travel insurance. If you need advice on this feel free to contact Odyssey and we'll be able to help.
When travelling independently, make sure you check the opening hours of shops and museums so that you don't miss out! Also be certain to check whether your trip coincides with any public holidays, so you can plan accordingly.
Before departing on your trip, contact your bank to inform them that you may be making purchases overseas. Otherwise, they may flag any activity on your account as suspicious. Also, check which ATMs and banks are compatible with your cards, to ensure you can withdraw cash with minimal fees.
Before departing, make sure you have a number of kroner in a range of denominations. You don't want to be carrying around enormous amounts of cash, but take enough to make it easy to pay in locations that might not accept credit card. It will also help you avoid card transaction fees, and it makes tipping a breeze.
About Odyssey Traveller
We specialise in educational small group tours for seniors, typically groups between six to 12 people from Australia, New Zealand, USA, Canada  and Britain. Our maximum number of people on a tour is 18 mature aged travellers.We have some 150 tours and offer 300 scheduled departures on offer each year. Odyssey has been offering this style of adventure and educational programs since 1983.
Odyssey Traveller is committed to charitable activities that support the environment and cultural development of Australian and New Zealand communities.
Odyssey Traveller scholarship for Australia & New Zealand University students.
We are also pleased to announce that since 2012, Odyssey has been awarding $10,000 Equity & Merit Cash Scholarships each year. We award scholarships on the basis of academic performance and demonstrated financial need. We award at least one scholarship per year. We're supported through our educational travel programs, and your participation helps Odyssey achieve its goals. Students can apply for the scholarship by clicking on this link to find out more details. 
Join our loyalty program when you join an international small group tour.
Every International small group tour taken typically contributes to your membership level in our Loyalty Program for regular travellers. Membership of the alumni starts when you choose to take your first international small group tour with Odyssey Traveller, discounts in tour pricing for direct bookings accrue from your third tour with Odyssey Traveller. To see the discounts and benefits of being a Bronze, Silver, Gold, and Diamond alumni member with us, please see this page.
For more information on Odyssey Traveller and our educational small group tours, visit and explore our website., remember to visit these pages in particular
Alternatively, please call or send an email.