Castlemaine, Victoria
An Antipodean travel company serving world travellers since 1983
Castlemaine, Victoria
Less famous than Bendigo and Ballarat, Castlemaine was an important centre of the Australian Gold Rush. Today, its a charming rural town with opulent Gold Rush architecture that belies its small size.
The traditional owners of the land around Castlemaine are the Dja Dja Wurrung Aboriginal people. While pastoralists settled in the region, the town, like so many others in Victoria, took off overnight after the discovery of gold in September 1851.
Originally named Forest Creek, the town was named Castlemaine after the estate of Viscount Castlemaine in Ireland. The name is believed to have been suggested by either goldfields Commissioner Wright or Lieutenant-Governor La Trobe, both of whom had been visitors at the estate.
By the end of 1851, there were 8000 people working the goldfields around Castlemaine – increasing to 25, 000 people by March 1852.
Castlemaine was pronounced a municipal district in 1855. The Gold Rush brought wealth to the city and civic and commercial buildings were laid out in mid-Victorian style.
Surface gold ran out by the 1860s, and Castlemaine – which never transferred to deep mining like Ballarat and Bendigo – waned in importance. Luckily, the town had already built in grand civic style.
Because of the town's relative lack of further growth, the Victorian streetscape of Castlemaine remains virtually untouched. As a result, Castlemaine is home to 27 buildings listed on the Victorian Heritage Register. Particular highlights include the Castlemaine Market, completed 1862. In its heyday it contained over 22 stores, selling fresh foods. The impressive building displays the influence of Australian colonial Greek and Roman revivals. In subsequent years, it became the venue for celebratory balls: in 1862, celebrating the coming of the railroad, and in 1867, a visit of the Duke of Edinburgh.
The Theatre Royal, originally built of timber and canvas in 1854, is Australia's oldest continuously-running theatre. In 1856, it played host to the popular Irish dancer, Lola Montez, during a tour of Australia. It was redesigned in Art Deco style in the 1930s, served as a cinema after the Second World War, and became a major music venue in 2004.
Other notable heritage buildings include the courthouse (1872 – 1900), a fine neo-classical structure, and the post office (1874-5), inspired by Renaissance classicalism. Castlemaine is also home to a number of historic hotels, including the Albion Hotel (now the Empyre), with an intricate iron-laced verandah, and the heritage listed Imperial Hotel, with a striking windowed mansard roof.
Another highlight of Castlemaine is the Castlemaine Art Gallery, one of Victoria's – and Australia's – finest regional art galleries. Established in 1913, it was rehoused in a spectacular Art Deco building designed by Percy Meldrum in 1931, an early example in regional Victoria of an austere, neo-Classical 'modern' building. The structure, extended several times since, includes a significant collection of Australian art, including works by Tom Roberts, Arthur Streeton, Margaret Preston and Rupert Bunny, among others; and houses rotating contemporary exhibitions, as well as a historical museum devoted to Castlemaine and surrounds. The gallery has fostered an artistic culture around Castlemaine today, with the Castlemaine Artists Market – hosted on the first Sunday of every month – hosting over 60 stalls displaying the works of local artists; while The Mill – a restored woolen mill – houses local crafts and produce.
In the goldrush, Castlemaine was home to Robert O'Hara Burke, who worked in town as a police superintendent before his fatal trek through the centre of Australia. Burke is now commemorated at the Burke & Wills Monument, with sweeping views over the town.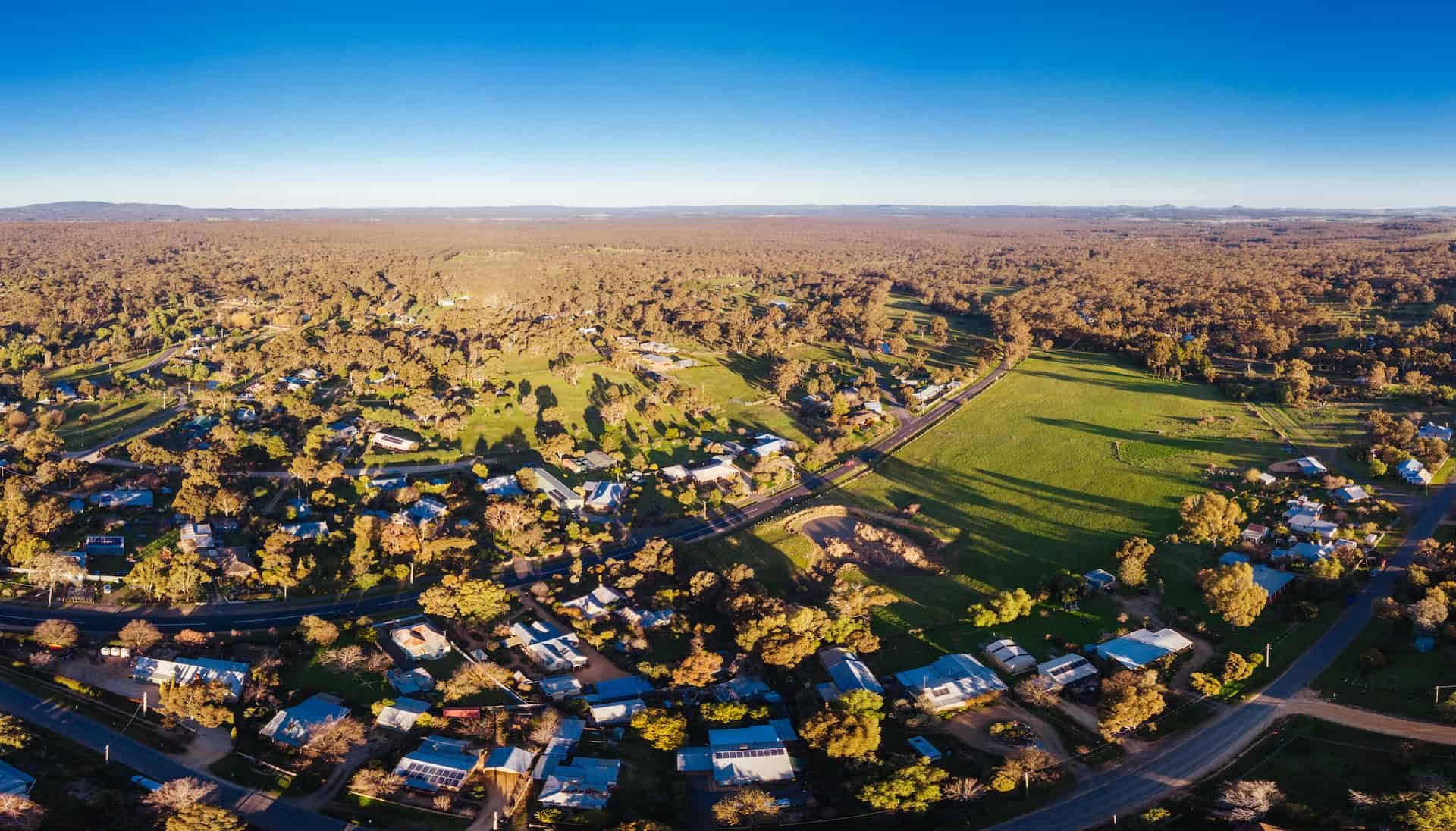 Castlemaine is an ideal place from which to explore the surrounding Goldfields. Buda House, an authentic 19th century goldfields villa is an easy day trip away. Owned by the Hungarian Leviny family from 1863 to 1981, the house was named after Budapest. Ernest Leviny was a skilled silversmith and watchmaker from Budapest who set up a successful business during the Victorian gold rush. The house – known as Delhi Villa – had initially been owned by a retired Baptist missionary, Reverend James Smith, and based on the Indian bungalow style of architecture. The Levinys oversaw many alterations to the house, particularly from 1890-1900, giving it an Italianate facade. In the early 20th century his daughters embraced the Arts and Crafts style, creating themselves interior fittings, tapestries, and metal lights to decorate their home. The garden is an intact version of a suburban Victorian garden of the late 19th/early 20th century.
Displays within the house include Leviny's silver work and the Arts and Crafts objects of his daughters, important Australian artworks of the early 20th century, and decorative arts – including pottery from the 1920s and 30s and hand printed textiles from the 30s and 40s.
Maldon:
Castlemaine is in close proximity to the heritage town of Maldon, which was declared Australia's 'first notable town' by the National Trust in 1966. Much like Castlemaine, Maldon became an important part of the Victorian goldfish when gold was discovered nearby in 1853. Once home to around 20, 000 people working the surrounding goldfields, Maldon today is a working town with just over one thousand.
In 2006, Maldon was awarded the 'most intact heritage streetscape'. Wandering down High Street and Main Street in the centre of town, you'll feel like you were transported back to the Gold Rush, with old weatherboard homes, stone buildings, and decorative storefronts preserved from the 19th century. Today, 19th century shops have been converted into antique shops, boutiques and local cafes.
To get to Maldon from Castlemaine, think about taking a ride on the Victorian Goldfields Steam Railway, an authentic steam train running the 45 minute journey between the towns. Pass through picturesque countryside, and book first class to enjoy a drink in heritage elegance.
Join 22,383 travellers receiving our weekly newsletter.




Special offers and promotions
$350 AUD travel voucher for your first trip
The latest tours and articles
Odyssey Traveller visits Castlemaine as part of our tour of Victoria. Beginning with two nights in Melbourne, where we explore the 19th century architecture of the world's most liveable city, our tour takes you through historic regional Victoria. During stays in Ballarat and Castlemaine and on a day walking tour of Bendigo, we learn about the history of the Gold Rushes. We also make a day tour of the historic spa town of Daylesford. We then head to Echuca, on the Murray River, to learn about the importance of paddlesteamer trade, with a wine tour of the All Saints winery on the way. The tour then heads to the High Country, stopping at Beechworth and Benalla, before returning to Melbourne via Yarra Glen and the Yarra Valley.
Every Odyssey guided tour is designed specifically for mature and senior travellers, who seek an authentic experience of the history and culture of their destination. We are led by an experienced tour operator/tour guide and move in small groups of around 6-12. We have built a strong community of like-minded travellers. Our tour price includes accommodation, entrance fees to attractions, and several meals, ranging from lunch to dinner to morning tea.
Odyssey tours cater for a range of health and fitness levels. If you have any concerns about your health, please seek advice from an expert health service before you book.
Articles about Australia published by Odyssey Traveller:
For all the articles Odyssey Traveller has published for mature aged and senior travellers, click through on this link.
External articles to assist you on your visit to Victoria:
Selected small group package tours of Australia