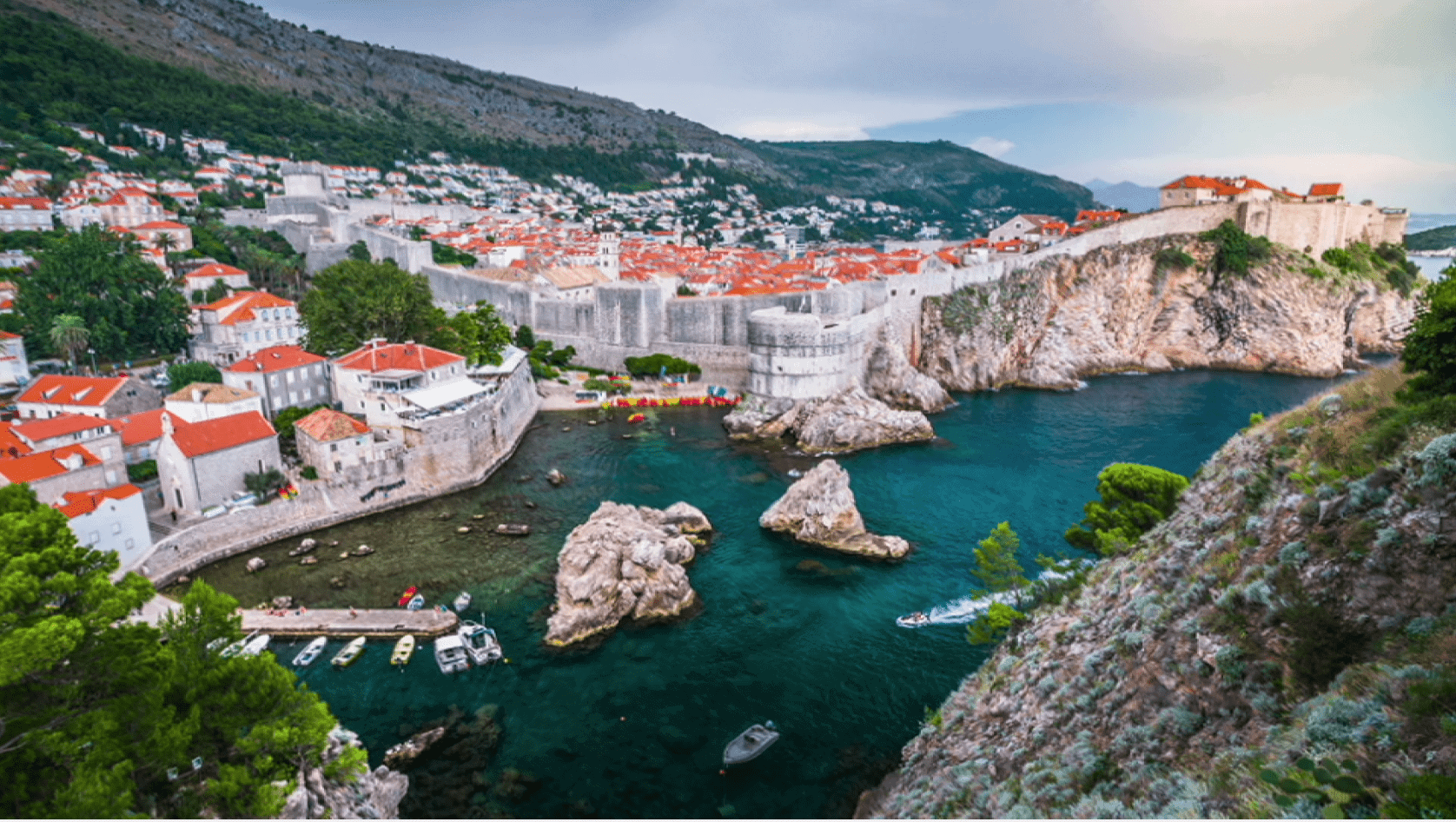 Croatia
An Antipodean travel company serving World Travellers since 1983.
Croatia tours for seniors
The main attraction of Croatia is undeniably its stunning coastline.
With isolated island resorts, vivid blue and green water, and secluded sandy beaches, it sometimes seems like

Croatia's

Dalmatian coast

was designed purposefully to provide the ideal lazy

vacation

. Yet Croatia isn't just beach leisure: its long history as a cultural crossroads between Venice and Istanbul means that the landscape is

dotted

with Byzantine and Venetian architecture. Head inland for equally world-class

scenery

in the lakes and mountains of Plitvice National Park. And wherever you go, you're sure to encounter traditional Croatian hospitality – which, happily, often translates to generous serves of local cooking. Though Croatian food is often simple and homestyle, the quality of local produce means that it is always delicious. 
The need to know
Touring Croatia
Getting around
Odyssey travels by coach and occasionally uses local transport, including trains and ferries. Specifics are always outlined in your tour itinerary. Croatia is well-served by an extensive bus network, with bus services in almost every town and city. Ferries and catamarans are often the best way of getting around Croatia's numerous islands off the coast. Train services are somewhat limited due to the mountainous landscape, with the country's train network largely restricted to the country's northern areas.
Accommodation
In major cities, Odyssey stays in centrally located 3-4 star hotels, with easy access to public transport. In smaller towns or rural areas, we usually stay in family-run hotels or guesthouses. On our long stay tours, during which you spend the length of the tour in a single location, we use serviced apartments.
Tour guides
Odyssey always engages local guides with regional knowledge to ensure an authentic experience during which you can learn as much as possible about the history and culture of places you visit.
Geography, environment and weather
Croatia lies on the Adriatic coast, and covers an area of 56,594 square kilometres. The topography of Croatia consists of flat plains to the east and north, and mountainous terrain towards the west and southern coast. Croatia is 1,777.3 kilometres long, with 1,246 islands and islets scattered across the coast, while Croatia's highest point is Dinara mountain at 1,831 metres.
Croatia has a continental climate, with warm summers and cool winters. Seasonal precipitation can be high in some areas, so check the weather reports and prepare accordingly depending on when you intend to travel.
World Heritage sites
Croatia has 10 UNESCO World Heritage Sites. You can view the official list of the sites here (https://whc.unesco.org/en/statesparties/hr). A few notable heritage sites include:
Stećci Medieval Tombstone Graveyards, featuring elaborate carvings and gravestone decorations
Stari Grad Plain, an agricultural and cultural landscape on the island.
Hvar that preserves the agricultural practices of ancient Greek colonists from the 4th century BCE
Diocletian's Palace in Split, one of the best remaining sites of Roman architecture in the world
Festivals & Events
Numerous festivals and events dot the calendar in Croatia. The Festival of St Blaise has been held in Dubrovnik continously since the year 972 AD. Held in honour of Saint Blaise, the patron of Dubrovnik, the festival features costumed parades and relgious blessings as the people of Dubrovnik give thanks to Saint Blaise. One of Croatia's more striking cultural events is the Moreška, a traditional sword dance performed on the island of Korčula. Featuring elaborate costumes and thrilling sword fights, the performances are themed around the battles between two warring kings over a veiled young woman. Other events include the mid-year Vinistra exhibition in Porec, which showcases the fine wines and spirits of the region, and the Pula Film Festival, which has screened films every year since 1954 at the iconic Roman ampitheatre of Pula (Pula Arena).
Reading list
A Traveller's History of Croatia, by Benjamin Curtis
Under a Croatian Sun, by Anthony Stancomb
Balkan Ghosts: A Journey Through History, by Robert D. Kaplan
A Taste of Croatia: Savoring the Food, People, and Traditions of Croatia's Adriatic Coast, by Karen Evenden
Running Away to Home, by Jennifer Wilson
Eating & Drinking
Regional influences have a heavy bearing on Croatian food – Slavic, Hungarian and Turkish influences characterise food to the inland areas to the north and east, while Greek and Italian influences colour the seafood-heavy cuisine of the coastal Dalmatian and Istrian regions. Black risotto is a dish popular all over Croatia's coastline; this Croatian take on risotto is made from rice, cuttlefish, onion, garlic, red wine, and olive oil, and is coloured black by cuttlefish ink. Other dishes from Croatia's coastal regions include grilled fish, grilled sardines and octopus salad. Further inland, stews and soups are more commonly found, such as duvec, a hearty tomato and meat-based vegetable stew. Beverages popularly consumed in Croatia include beer, wine and rakija (fruit brandy), which comes in many different varieties.
Health and Safety
Generally speaking, Croatia is safe to travel in, though always exercise common sense while travelling.
Electrical Supply
Whenever you travel overseas, it's always wise to take an appropriate travel adaptor. Croatia's electricity supply runs at 230V and 50Hz. Croatia uses both the Type C and Type F electric plugs, so make sure you have the right travel adaptor with you.
The best of Croatia
Highlights
Dubrovnik Old Town
Dubrovnik Old Town Walls, the historic defensive fortiforcations that encircle the picturesque old town centre of Dubrovnik
Euphrasian Basilica
Euphrasian Basilica, a stunning example of Byzantine architecture
Plitvice National Park
Plitvice National Park, the largest national park in Croatia containing beautiful turquoise-blue lakes and cascading waterfalls
Hand crafted tours for Mature World Travellers
Croatia Tours
Spend 19 days touring Croatia, starting in Zagreb then travel south  following the coast, where trade and the influences of the outside world made its mark. Throughout the tour you'll explore the country in depth with great local guides and stay in key historical area such as Porec, Zagreb and Dubrovnik.
This 18 day tour takes you deep into the the Balkan Peninsula. Starting in Dubrovnik, travel through Croatia, Bosnia & Herzegovina, Serbia, Macedonia and Albania before returning to Dubrovnik. The scenery is stunning and the long, troubled history of the region makes this a fascinating journey of discovery. Religious and cultural differences add to the interest of the area and help make this a tour which goes well beyond the usual tourist trail.
A Journey that commences in Rome before Christmas, takes in 12 places along it's journey to Athens. Enjoy this off season tour avoiding the summer crowds to the key galleries and Museums of Mediterranean Europe as the history unfolds before you in a mild climate as you travel through the key countries of the Mediterranean.
Responsible travel tips for Croatia
Learn at least the local greetings to break the ice. Although many locals speak English, the more you know of the native language, the greater your experience of the country will be.
Carry a business card in your wallet or purse from your local hotel, to assist you with the return journey if you do become lost.
Always ensure that you are covered by travel insurance. If you need advice on this feel free to contact Odyssey and we'll be able to help.
When travelling independently, make sure you check the opening hours of shops and museums so that you don't miss out! Museums and galleries are often closed on Mondays. Also be certain to check whether your trip coincides with any public holidays, so you can plan accordingly.
Consider contacting your bank to inform them that you may be making purchases overseas. Otherwise, they may flag any activity on your account as suspicious. Also, check which ATMs and banks are compatible with your cards, to ensure you can withdraw cash with minimal fees.
Before departing, make sure you have a number of Krona in a range of denominations. You don't want to be carrying around enormous amounts of cash, but take enough to make it easy to pay in locations that might not accept credit card. It will also help you avoid card transaction fees, and it makes tipping a breeze.
About Odyssey Traveller
We specialise in educational small group tours for seniors, typically groups between six to 12 people from Australia, New Zealand, USA, Canada  and Britain. Our maximum number of people on a tour is 18 mature aged travellers.We have some 150 tours and offer 300 scheduled departures on offer each year. Odyssey has been offering this style of adventure and educational programs since 1983.
Odyssey Traveller is committed to charitable activities that support the environment and cultural development of Australian and New Zealand communities.
Odyssey Traveller scholarship for Australia & New Zealand University students.
We are also pleased to announce that since 2012, Odyssey has been awarding $10,000 Equity & Merit Cash Scholarships each year. We award scholarships on the basis of academic performance and demonstrated financial need. We award at least one scholarship per year. We're supported through our educational travel programs, and your participation helps Odyssey achieve its goals. Students can apply for the scholarship by clicking on this link to find out more details. 
Join our loyalty program when you join an international small group tour.
Every International small group tour taken typically contributes to your membership level in our Loyalty Program for regular travellers. Membership of the alumni starts when you choose to take your first international small group tour with Odyssey Traveller, discounts in tour pricing for direct bookings accrue from your third tour with Odyssey Traveller. To see the discounts and benefits of being a Bronze, Silver, Gold, and Diamond alumni member with us, please see this page.
For more information on Odyssey Traveller and our educational small group tours, visit and explore our website., remember to visit these pages in particular
Alternatively, please call or send an email.