Czech Republic
An Antipodean travel company serving World Travellers since 1983.
Czech Republic tours for seniors.
Nestled in the heart of central Europe, the Czech Republic is a magical land filled with charming medieval architecture and picturesque scenery. Wander through the enchanting streets of Prague – packed with medieval, Art Nouveau, and quirky modern architecture. Outside the capital, explore the castles and medieval towns that dot the lands of the Czech Republic. Join Odyssey Traveller as we take you on a journey through this wonderful travel destination.
The need to know
Touring Czech Republic
Getting around
Odyssey travels by coach and occasionally uses local transport, including trains and ferries. Specifics are always outlined in your tour itinerary. The Czech Republic has one of the largest rail networks in Europe, with fairly affordable train services operating across the length and breadth of the country. Bus services are also widely available, and are often less expensive than trains. Taxi cabs can be found in many cities and towns, although beware of being ripped off by unscrupulous unofficial cab drivers.
Accommodation
In major cities, Odyssey stays in centrally located 3-4 star hotels, with easy access to public transport. In smaller towns or rural areas, we usually stay in family-run hotels or guesthouses. On our longstay tours, during which you spend the length of the tour in a single location, we use serviced apartments.
Tour Guides
Odyssey always engages local guides with regional knowledge to ensure an authentic experience during which you can learn as much as possible about the history and culture of places you visit.
Geography environment and weather
The landlocked country of the Czech Republic covers a total area of 78,867 square kilometres. Two thirds of the country is occupied by the by the river basin of Bohemia, through which the Elbe and Vltava rivers flow. Low mountains and hills ring the Bohemian river basin, with the country's highest point, Snezka, situated in the Krkonose mountains in the northeast. The region of Moravia in the eastern half is hilly, and is drained predominantly by the Morava river.
The Czech Republic has a mostly temperate oceanic climate, with warm summers and cold winters. Depending on when you intend to travel, check the weather reports and dress accordingly.
World Heritage sites
There are 12 properties in Czech Republic listed on the World Heritage List. You can view the listed properties here: (https://whc.unesco.org/en/statesparties/cz). The Czech Republic's listed properties include:
Lednice-Valtice Cultural Landscape, which features classical and neo-Gothic design principles and holds one of the largest artificial landscapes in Europe
Holy Trinity Column in Olomouc, the ornately decorated monument which stands in the town of Olomouc
Pilgrimage Church of St John of Nepomuk at Zelená Hora, which features a truly unique architectural style.
Festivals and events
The Czechs love to celebrate, with many different festivals and events held across the country throughout the year. Pagan rituals and and traditions that predated the arrival of Christianity in Czech lands are still preserved through distinctive festivals such as the Burning of the Witches, whereupon effigies of witches are burned to ward off evil spirits, and the Harvest Festivals, whereby a successful harvest was traditionally celebrated with singing, dancing, and feasting. The performing arts are celebrated in the Czech Republic, with events such as the Prague Spring International Music Festival and the Karlovy Vary International Film Festival showcasing the country's love for the creative arts. Given the Czechs love of beer, it would only be natural that an entire festival would be dedicated to the creation and consumption of the most popular beverage in the Czech Republic. The Czech Beer Festival is held over 17 days in May, with over 120 different beers on offer, and features people dressed in traditional Czech costumes and live music performances.
Reading list
A History of the Czech Lands, by Jaroslav Panek and Oldrich Tuma
Magic Prague, by Angelo Mario Ripellino
Gottland, by Mariusz Szczygiel
The Metamorphosis, by Franz Kafka
Eating and Drinking
Like much of Central Europe, the fare in the Czech Republic is generally hearty, with soups and stews prominently featuring in Czech cuisine. Meats and vegetables are often cooked in the form of soups, with notable soups including kulajda (potato soup made with mushrooms, dill, vinegar and a poached egg) and rajská omáčka (tomato soup served with cooked beef and onions). The Czech Republic shares the guláš (goulash) dish with its Hungarian neighbours, though the Czech version tends to be more meat heavy and is more of a sauce than a soup. Sweeter offerings include palačinky, thin pancakes served with jam, fruit, or cream, and trdelník, a pastry made from wrapped around a stick, heated over an open flame and coated with sugar, nuts or cinnamon.
Beer consumption is an integral part of socialising in the Czech Republic, with the Czechs ranking as the biggest per capita consumers of beer in the world. Pilsener lager is the most common type of beer in the Czech Republic, though wheat beer and other types are also available. Other notable beverages in the Czech Republic include Fernet Stock (herbal bitters) and Slivovitz (a fruity brandy made from plums).
Health and safety
Generally speaking, Czech Republic is safe to travel in, though always exercise common sense while travelling. Beware of criminals using fake police ID asking to check the authenticity of your foreign currency and passports. Aslo be advised that pickpocketing does occur, so keep your valuables close and pay close attention to your personal security.
Electrical supply
Whenever you travel overseas, it's always wise to take an appropriate travel adaptor. The electricity supply in Czech Republic runs at 220V and 50Hz. Czech Republic uses the Type D and Type M electric plug types, so make sure you have the right travel adaptor with you.
The best of Czech Republic
Highlights
Charles Bridge
Charles Bridge, the iconic bridge spanning the Vltava river.
Prague Castle
Prague Castle, the stunning 9th-century castle which has long stood as a seat of power for the region.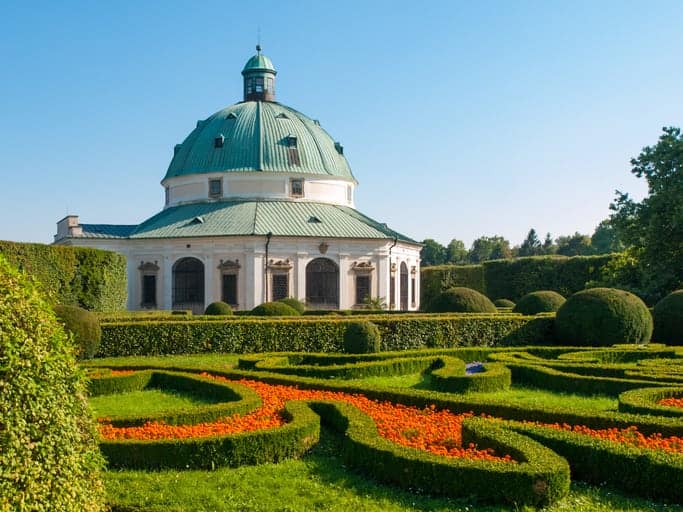 Kroměříž Gardens
Kroměříž Gardens, the elegant Baroque-style gardens located in the grounds of Kroměříž castle.
Hand crafted tours for mature world travellers
Czech Republic Tours
From the mediaeval jewel of Cesky Krumlow to the grandeur of the Habsburg's summer palace in Vienna, we embark on a 21 night journey to learn about these vibrant and artistically rich cities. We delve into the history of the famous artists, musicians, writers, architects and composers from Austria, Hungary, Poland and the Czech Republic.
Responsible travel tips for the Czech Republic
Learn at least the local greetings to break the ice. Although some locals speak English, the more you know of the native language, the greater your experience of the country will be.
Carry a business card in your wallet or purse from your local hotel, to assist you with the return journey if you do become lost.
Always ensure that you are covered by travel insurance. If you need advice on this feel free to contact Odyssey and we'll be able to help.
When travelling independently, make sure you check the opening hours of shops and museums so that you don't miss out! Museums and galleries are often closed on Mondays. Also be certain to check whether your trip coincides with any public holidays, so you can plan accordingly.
Consider contacting your bank to inform them that you may be making purchases overseas. Otherwise, they may flag any activity on your account as suspicious. Also, check which ATMs and banks are compatible with your cards, to ensure you can withdraw cash with minimal fees.
Before departing, make sure you have a number of koruna in a range of denominations. You don't want to be carrying around enormous amounts of cash, but take enough to make it easy to pay in locations that might not accept credit card. It will also help you avoid card transaction fees, and it makes tipping a breeze.
About Odyssey Traveller
We specialise in educational small group tours for seniors, typically groups between six to 12 people from Australia, New Zealand, USA, Canada  and Britain. Our maximum number of people on a tour is 18 mature aged travellers.We have some 150 tours and offer 300 scheduled departures on offer each year. Odyssey has been offering this style of adventure and educational programs since 1983.
Odyssey Traveller is committed to charitable activities that support the environment and cultural development of Australian and New Zealand communities.
Odyssey Traveller scholarship for Australia & New Zealand University students.
We are also pleased to announce that since 2012, Odyssey has been awarding $10,000 Equity & Merit Cash Scholarships each year. We award scholarships on the basis of academic performance and demonstrated financial need. We award at least one scholarship per year. We're supported through our educational travel programs, and your participation helps Odyssey achieve its goals. Students can apply for the scholarship by clicking on this link to find out more details. 
Join our loyalty program when you join an international small group tour.
Every International small group tour taken typically contributes to your membership level in our Loyalty Program for regular travellers. Membership of the alumni starts when you choose to take your first international small group tour with Odyssey Traveller, discounts in tour pricing for direct bookings accrue from your third tour with Odyssey Traveller. To see the discounts and benefits of being a Bronze, Silver, Gold, and Diamond alumni member with us, please see this page.
For more information on Odyssey Traveller and our educational small group tours, visit and explore our website., remember to visit these pages in particular
Alternatively, please call or send an email.