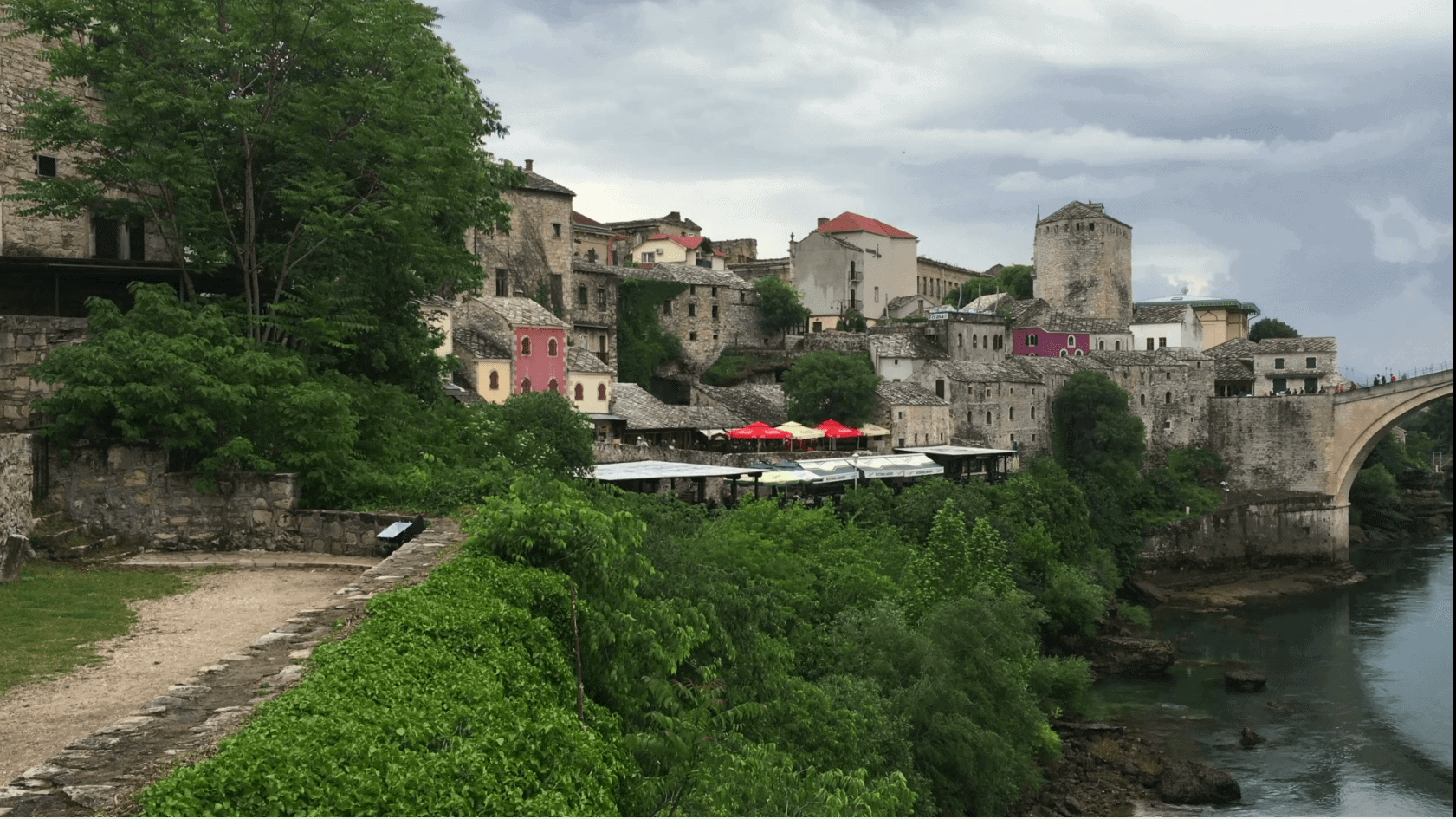 Bosnia & Herzegovinia
An Antipodean travel company serving World Travellers since 1983.
Bosnia & Herzegovina Tours for Seniors
Standing at the western edge of the Balkans, Bosnia and Herzegovina combines beautiful mountain scenery and enchanting rural charm. The country's rich and tragic history has left an indelible mark but it does not overshadow its bright and vibrant future and there is plenty to explore in modern-day Bosnia and Herzegovina. With a mix of Ottoman and Slavic influences represented in the country's architecture, cuisine and culture, you are sure to be enchanted by this fascinating Balkan nation.
In mountain-ringed Sarajevo, you will find a unique mix of cultures and faiths represented by a dazzling architectural medley of churches and museums. It is hard not to be captivated by the city's colourful street life and East-meets-West-style skyline. On the banks of the dazzling Neretva River, Mostar is fast becoming a premier travel destination despite its war scars. With attractive Ottoman architecture, it has an enchanting old town centre and is home to one of the Balkan's most famous bridges. Outside of the cities, enjoy craggy mountain scenery dotted with medieval ruins and breathtaking waterfalls.
Hand crafted tours for mature world travellers
Bosnia and Herzegovina Tours
This 18 day tour takes you deep into the the Balkan Peninsula. Starting in Dubrovnik, travel through Croatia, Bosnia & Herzegovina, Serbia, Macedonia and Albania before returning to Dubrovnik. The scenery is stunning and the long, troubled history of the region makes this a fascinating journey of discovery. Religious and cultural differences add to the interest of the area and help make this a tour which goes well beyond the usual tourist trail.
Subscribe
Receive a AUD$350 voucher towards your first small group tour
Join
The need to know
Touring Bosnia and Herzegovina
Getting around
Odyssey travels by coach and occasionally uses local transport, including trains and ferries. Specifics are always outlined in your tour itinerary. The bus network in Bosnia and Herzegovina is fairly extensive, with bus routes covering the length of the country. Train services are also available, though are slower and are more limited in both availability and transportation coverage.
Accommodation
In major cities, Odyssey stays in centrally located 3-4 star hotels, with easy access to public transport. In smaller towns or rural areas, we usually stay in family-run hotels or guesthouses. On our longstay tours, during which you spend the length of the tour in a single location, we use serviced apartments.
Tour Guides
Odyssey always engages local guides with regional knowledge to ensure an authentic experience during which you can learn as much as possible about the history and culture of places you visit.
Geography environment and weather
Bosnia and Herzegovina covers an area of 51,197 square kilometres, and is almost entirely landlocked, with only 20 kilometres of coastline along the Adriatic Sea. The region of Bosnia comprises nearly four-fifths of nation's territory, with Herzegovina constituting the southernmost portion of the country. Bosnia and Herzegovina is largely mountainous, with mountain ranges such as the Dinaric Alps and the Kozara, Vlašic, Plješevica ranges criss-crossing the country. Much of Bosnia and Herzegovina is covered by forest, with forest making up two-fifths of the country's surface.
Aside from the Mediterranean climate experienced in the country's far south, most of Bosnia and Herzegovina experiences a continental climate, with hot summers and cold winters. Depending on when you intend to travel, check the weather reports and dress accordingly.
World Heritage sites
There are three properties in Bosnia and Herzegovina listed on the World Heritage List. You can view the listed properties here: (https://whc.unesco.org/en/statesparties/ba). Bosnia's listed properties include:
Mehmed Paša Sokolović Bridge in Višegrad, which stands as an outstanding example of Ottoman-era civil engineering
Old Bridge Area of the Old City of Mostar, which features a striking mix of medieval Bosnian and Ottoman-era architectural sytles
Stećci Medieval Tombstone Graveyards, which contain thousands of distinctive medieval limestone tombstones.
Festivals and events
Numerous festivals and events dot the calendar in Bosnia and Herzegovina. One of the largest cultural events in the country is Bascarsija Nights. Held during the month of July in Sarajevo, Bascarsija Nights features many live performances, including opera, ballet, and theatrical shows, as well as film screenings and literary evenings. Summer on the Vrabas, an athletic carnival held in July, plays hosts to many sporting competitions, including soccer, basketball, beach volleyball, diving, and even competitive fishing. For a glimpse of the region's medieval past, the Stolačka Tarča festival is worth a look. A medieval fair held in the town of Vidoško, it features archaelogical displays, dance performances and mock fights between costumed performers.
Reading list
Bosnia by Ivan Lovrenović
Bosnia and Herzegovina: The Bradt Travel Guide by Tim Clancy
The Bosnia List: A Memoir of War, Exile, and Return by Kenan Trebincevic and Susan Shapiro
Bosnia in Limbo: Testimonies from the Drina River by Borja Lasheras
Eating and Drinking
Bosnian cuisine bears many of the hallmarks of Balkan culinary traditions, as well as incorporating influences from Mediterranean and Middle Eastern cuisines. Ćevapi, which is a sausage made from grilled minced meat, is the most popular street in Bosnia and Herzegovina, and is generally served with pita bread, chopped onions and sour cream. A common accompaniment to many meals in Bosnia and Herzegovina is ajvar, a relish made from red peppers. Stews feature prominently in Bosnian cooking, including djuvec (an oven-baked stew made with onion, tomatoes, eggplant, and meat such as chicken or lamb) and begova čorba (a slow-cooked chicken and vegetable stew). Sweeter offerings include tufahija, which is poached apples stuffed with walnuts, and baklava, which is a layers of filo pastry filled with chopped nuts and honey.
Like elsewhere in the Balkans, coffee is immensely popular in Bosnia and Herzegovina, and is often enjoyed with meals or served to guests as a sign of hospitality. Stronger beverages found in Bosnia and Herzegovina include slivovitz (plum brandy) and medovina (mead).
Health and safety
Generally speaking, Bosnia and Herzegovina is safe to travel in, though always exercise common sense while travelling. Be advised however that land mines and unexploded ordanance is an occasional hazard, especially in more remote areas in the mountains and the country.
Electrical supply
Whenever you travel overseas, it's always wise to take an appropriate travel adaptor. The electricity supply in Bosnia and Herzegovina runs at 230V and 50Hz. Bosnia and Herzegovina uses Type C and Type F electric plugs, so make sure you have the right travel adaptor with you.
The best of Bosnia and Herzegovina
Highlights
Articles relating to Bosnia & Herzegovina published by Odyssey Traveller
For all the articles Odyssey Traveller has published for mature aged and senior travellers, click through on this link.
External articles to assist you on your visit to Bosnia & Herzegovina
Responsible travel tips for Bosnia and Herzegovina
Learn at least the local greetings to break the ice. Although some locals speak English, the more you know of the native language, the greater your experience of the country will be.
Carry a business card in your wallet or purse from your local hotel, to assist you with the return journey if you do become lost.
Always ensure that you are covered by travel insurance. If you need advice on this feel free to contact Odyssey and we'll be able to help.
When travelling independently, make sure you check the opening hours of shops and museums so that you don't miss out! Museums and galleries are often closed on Mondays. Also be certain to check whether your trip coincides with any public holidays, so you can plan accordingly.
Consider contacting your bank to inform them that you may be making purchases overseas. Otherwise, they may flag any activity on your account as suspicious. Also, check which ATMs and banks are compatible with your cards, to ensure you can withdraw cash with minimal fees.
Before departing, make sure you have a number of convertible marks in a range of denominations. You don't want to be carrying around enormous amounts of cash, but take enough to make it easy to pay in locations that might not accept credit card. It will also help you avoid card transaction fees, and it makes tipping a breeze.