Questions About Kazakhstan: The Definitive Guide
An Antipodean travel company serving world travellers since 1983
Questions About Kazakhstan for senior travellers.
Odyssey Traveller specialises in crafting unforgettable experiences for senior and mature-aged travellers who are interested in learning whether as a couple or a solo traveller. Providing adventure and educational programs to  escorted small group tours since 1983. Odyssey has built up a reasonable knowledge bank to answer questions about Kazakhstan that travellers are likely to ask, as they make their plans to tour independently, or with us as part of a small group tour. We hope that this list of frequently asked questions and the answers we provide will help you with planning your next holiday.
Read on, but please do not hesitate to contact us via the website, email or chat if you have more questions about Kazakhstan or our other tours.
FAQs
Kazakhstan is in Central Asia, bounded on the north by Russia, on the east by China, on the south by Kyrgyzstan, Uzbekistan, Turkmenistan, and the Aral Sea, and on the southwest by the Caspian Sea. Kazakhstan is the ninth largest country in the world and covers a landlocked area bigger than all of Western Europe.
The Persian suffix -stan means "land" or "place of".
There is no consensus among scholars about the etymology of the word "Kazakh", but one theory says it comes from the ancient Turkic word qaz, which means either "to wander" or "to conquer", which may also be the root of the word "Cossack", referring to a member of self-governing military societies south of Russia. (Omeljan Pritsak discusses the etymology in more detail in "The Turkic Etymology of the Word 'Qazaq' 'Cossack'" published in Harvard Ukrainian Studies.) With the suffix, Kazakhstan can translate to "land of the wanderers" or "the land of conquerors".
Join 22,383 travellers receiving our weekly newsletter.




Special offers and promotions
$350 AUD travel voucher for your first trip
The latest tours and articles
FAQs
Kazakhstan is famous for its mix of Islamic and Soviet architecture, the futuristic design of its planned capital city (Astana, now Nur-Sultan), its surviving Soviet art, its connection to the Silk Road, and its picture-perfect natural landscapes.
You may have also heard of Kazakhstan in connection to its horse-riding culture. It was in the steppes of Central Asia where man first tamed wild horses (based on 5,500-year-old findings of horse fossil in northern Kazakhstan) for speedy transportation, and used its meat and milk for sustenance. Horse meat and milk are ingredients that can still be seen in modern Kazakh cuisine.
And of course, there is the 2006 satire film, Borat: Cultural Learnings of America for Make Benefit Glorious Nation of Kazakhstan.
It is a bit unfortunate that the most lasting imprint Kazakhstan has made on popular culture and global imagination was by way of British comedian Sacha Baron Cohen's 2006 satire film. Cohen's mockumentary about a Kazakh reporter named Borat Sagdiyev pokes fun at Western (particularly British and American) bigotry and isolationism but has also, as is often the case with satire, led to some audience members believing and accepting that the attitudes and locales shown onscreen is that of the "real" Kazakhstan. As Yerlan Askarbekov writes in 2016, "the only thing accurate about Kazakhstan in this film is the country's position on the map."
It wasn't all bad: Askarbekov also relates that (quoting then Kazakstan foreign affairs minister Yerzhan Kazykhanov) following the film's release, Kazakhstan increased the number of visas it issued "by 10 times".
The official languages are Kazakh and Russian.
A large majority (97%) of the population is fluent in Russian, but Kazakh, following independence from the Soviet Union in 1991, has become the main language for education and government. The Kazakh language has no alphabet of its own and is currently being written using a modified version of the Cyrillic alphabet. The nation is reportedly going to introduce a shift to the Latin alphabet, to be completed by 2025.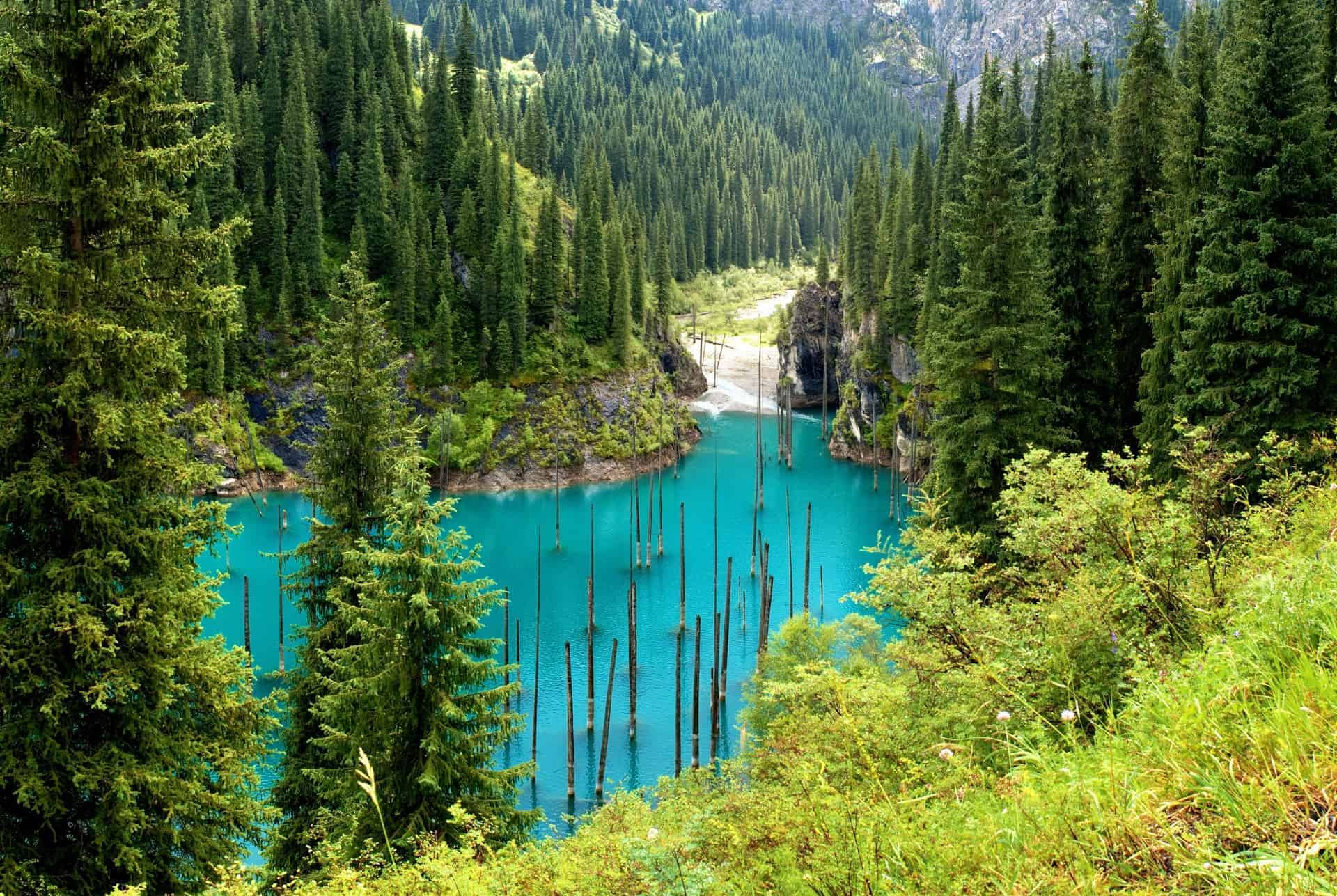 You may read our article, "Exploring Kazakhstan", to learn more about the country's history and places to visit, and see the itinerary of our Kazakhstan tour if you'd like to see these wonders in person.
Related Tours
Visit the largest landlocked country in the world, Kazakhstan. Once part of the Mongol and Russian Empires, Kazakhstan is where man first tamed wild horses on the vast Kazakh Steppe, the dry grassland that dominates its landscape and connects it with Europe and the rest of Asia.
Join Odyssey Traveller in a once-in-a-lifetime opportunity to witness spacecrafts launch into space at the Baikonur Cosmodrome, the world's oldest and largest space launch facility located in Kazakhstan, south of Russia.
Departing Feb, Apr, Aug, Oct
This Odyssey is designed for the adventurous traveller, a traveller who is prepared for a range of accommodation styles, for walking excursions and some long travel days in 3 Central Asian countries. The program combines experiences with great scenery, ancient and modern histories, family visits and lifestyles that differ dramatically.
Articles
The Kazakh Steppe, Kazakhstan Stretching across vast swathes of Central Asia, the Kazakh Steppe covers much of the northern region of Kazakhstan, an area roughly of 800,000 square kilometers. The great steppe is comprised of…
Soviet Art in Kazakhstan When the Kazakh khanate splintered into three hordes in the early 17th century, they became vulnerable to raids from Mongol tribes, primarily the Dzungars (dson, "left"; gar, "hand") who formed the left wing…