Highlights of Turkey | Pamukkale
An Antipodean travel company serving World Travellers since 1983
Highlights of Turkey | Pamukkale
Pamukkale, which in Turkish translates to "Cotton Castle", is a UNESCO World Heritage Site and one of Turkey's famous and most visited tourist attraction. It is located in near the town of Denizli in southwestern Turkey. What at first appears to be a blindingly white snow-covered landscape is given its striking look by an accretion of travertine caused by flowing water. Travertine is a form of limestone deposited by hot springs. The UNESCO World Heritage Committee describes Pamukkale as "an unreal landscape, made up of mineral forests, petrified waterfalls and a series of terraced basins."
Join 22,383 travellers receiving our weekly newsletter.




Special offers and promotions
$350 AUD travel voucher for your first trip
The latest tours and articles
Pamukkale and Hierapolis
In addition to this natural terraced wonder of limestone deposits, Pamukkale is also home to a man-made treasure–the well-preserved Greco-Roman city of Hierapolis ("Holy City"), now the Hierapolis Archaeological Museum. The ancient city was built around the hot springs of Pamukkale. Pamukkale has seventeen thermal springs, and the water flow onto the carbonate mineral as milky pools. The hot springs of Pamukkale have been used as a spa since the 2nd century BC, with people coming here from all over the ancient world during the Hellenistic period to seek a cure for their ailments. As a result many people in poor health retired here and died, resulting in a most extensive necropolis that is filled with a huge variety of sarcophagi.
On your visit, walk around the extensive archaeological site, and bathe in the swimming pool, the man-made Cleopatra's Pool said to be commissioned by Marc Antony for Cleopatra. The water here is a relaxing 36 degrees Celsius, with the added bonus of being able to swim around the ancient ruins submerged in the pool.
About a ten-minute walk away is the Roman theatre of Hierapolis, which once accommodated up to 12,000 guests. The Hierapolis Archaeological Museum is housed in what was once the Roman Baths, one of the area's largest ancient buildings, and displays Bronze Age crafts excavated from the archaeological site in the region, marble and stone artefacts, including the ruins of the Temple of Apollo, and Roman works of art.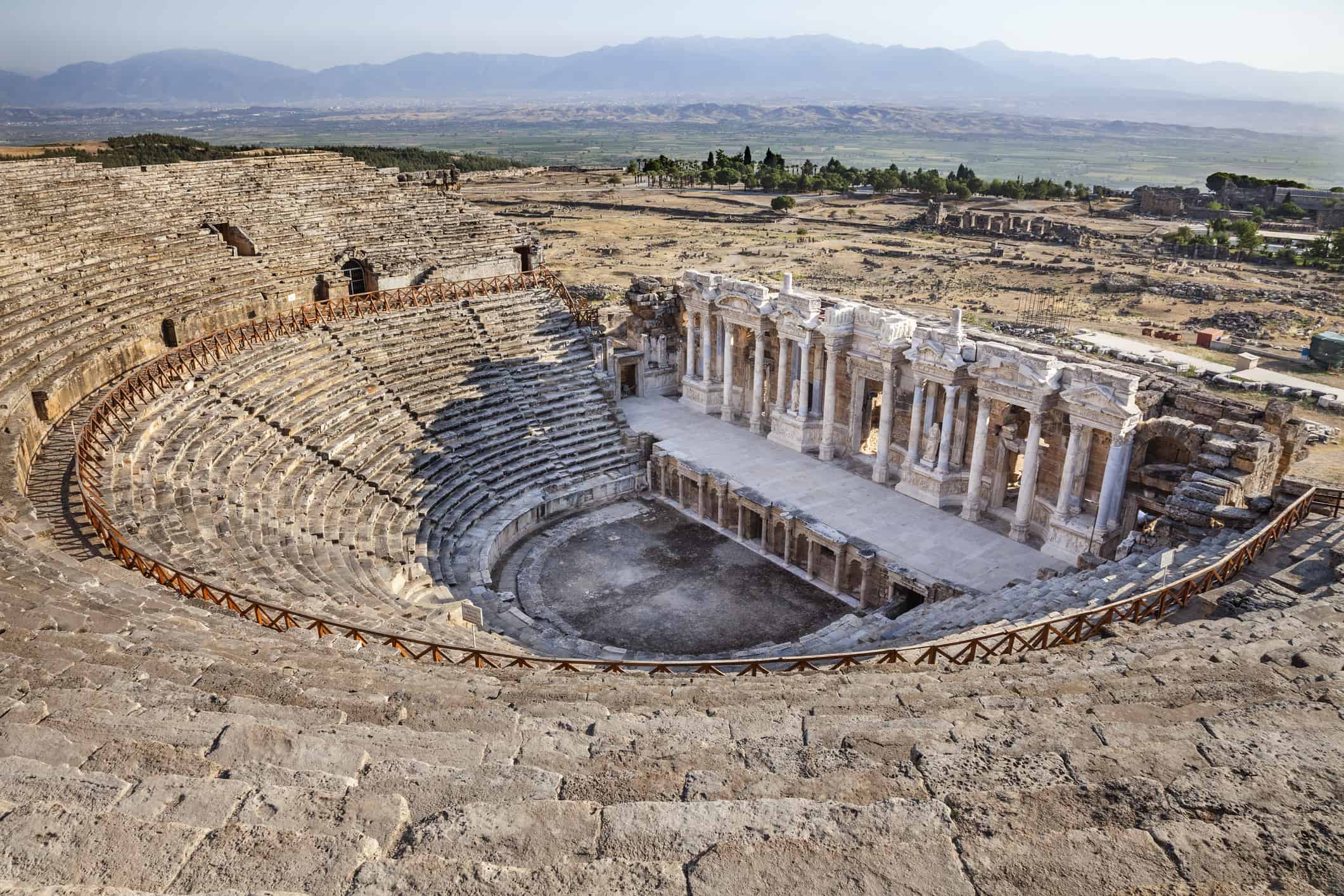 The nearest city to Pamukkale is Denizli, though most Pamukkale tour visitors visit on a day tour from the Aegean resort of Kusadasi near Ephesus–nearly 200 kilometres to the east. You can buy a bus ticket at the Denizli bus station, and the buses run Denizli Pamukkale for 40 minutes. Of course, if you join an Odyssey Traveller tour to Turkey, we will take care of the travel logistics to Pamukkale for you. (On our itinerary, we depart Antalya to travel to this World Heritage Site on Day 14.)
Remember that you'll have to remove your shoes to walk the travertine area, and as a protected site, the place is guarded in case you step on a particularly fragile terrace.
Articles about Turkey published by Odyssey Traveller.
For all the articles Odyssey Traveller has published for mature aged and senior travellers, click through on this link.
External articles to assist you on your visit to Turkey.
Related Tours
As a travel company we seek to keep guests off the beaten path. Trips that are remembered for authentic experiences. Our small group journeys in Turkey are fully escorted by an experienced local guide and an Odyssey guide to give this type of  experience whether at one of the many UNESCO World heritage sites explored or local bazaars. It is always about the adventure and memories that we will create.