Pakistan
An Antipodean travel company serving World Travellers since 1983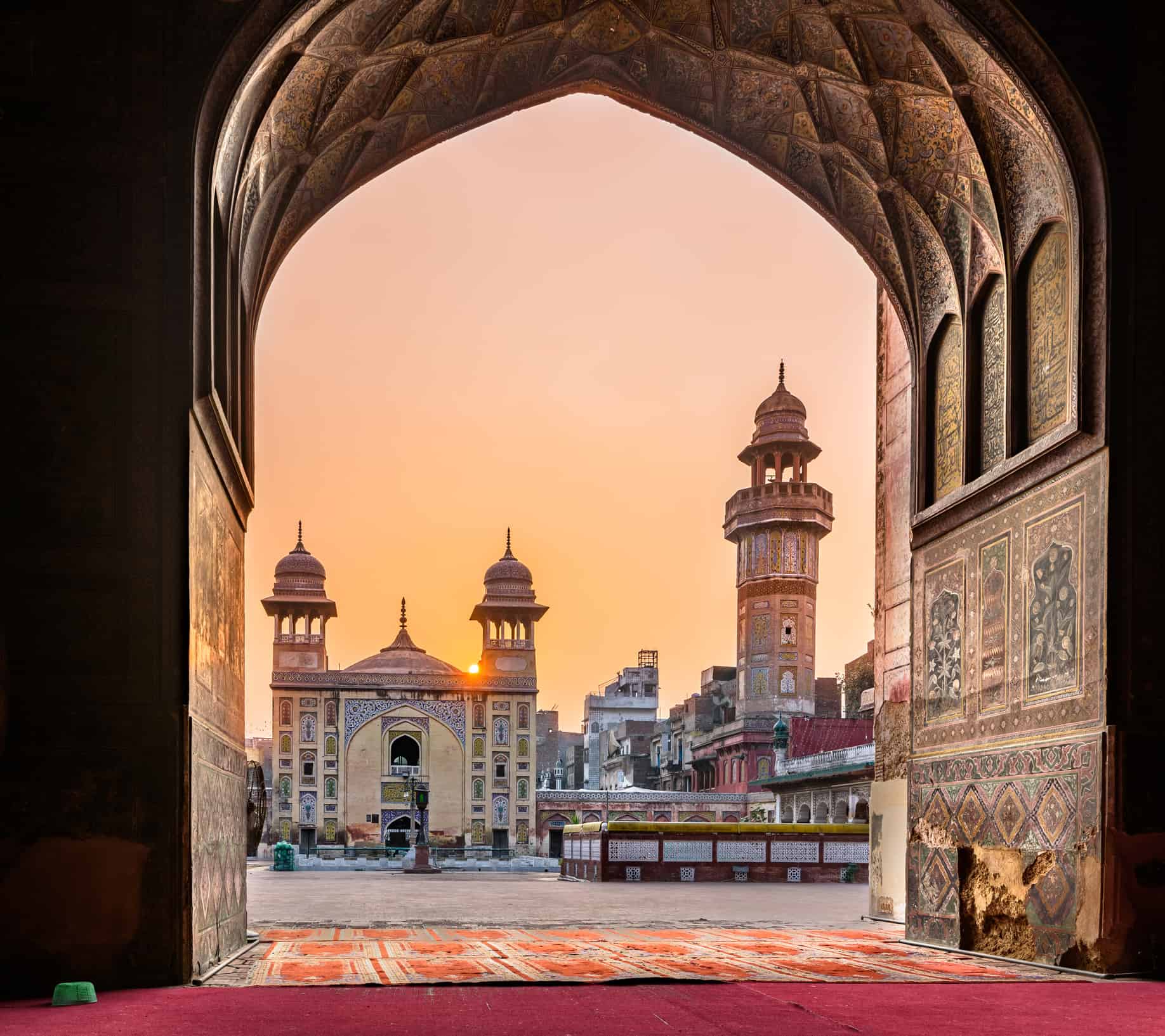 Pakistan tours for seniors
Pakistan, with its southern coast dipping into the Arabian Sea and its northern highlands dominated by the Karakoram, Himalayan, and Hindu Kush mountain ranges, promises majestic views and unforgettable experiences to the adventurous senior or mature-aged traveller.
On your Pakistan trip, there is much to explore as you learn about the long history and colourful culture of this amazing country. Visit ancient ruins, medieval capitals, and Pakistan's pre-Muslim temples in the historic cities of Thatta, Hyderabad, Larkana, Lahore, and Peshawar. Walk through lively bazaars and scenic landscapes reminiscent of the Arabian Nights. Go further north and see breathtaking views in the region of Gilgit-Baltistan near the Pakistani border with China, the location of K2, the world's second highest mountain next only to Mt. Everest. The region's central valley, Skardu Valley, shares similarities in culture, lifestyle, and architecture with Tibet, and may feel like a world away from the modern wonders of the Pakistani capital of Islamabad. This allows you to experience Pakistan and all its wonders and complexities, and may just be your adventure of a lifetime.
The history of Pakistan, a young nation created with the partition of British India in 1947, is intertwined with the history of India and the broader Indian subcontinent. From 1947 to 1971, Pakistan was divided further into two: West Pakistan and East Pakistan. Following years of internal conflict, East Pakistan declared its independence in 1971 as the nation of Bangladesh, and West Pakistan became modern-day Pakistan. Prior to the 1947 partition, Pakistan's history was India's history. The subcontinent was home to one of the oldest and most influential human civilisations, the Indus civilisation (also known as Harappan civilisation), an urban culture that dated from 2500 BC and declined around the 2nd millennium BC.
The most well-known period in the subcontinent's history was the rule of the Mughal Empire from the 16th to the mid-19th century. An immensely successful Muslim empire of Turkic-Mongol origin, its rulers controlled the entire subcontinent of India and reached a population of 100 million at its peak. Though a Muslim dynasty that ruled over a Hindu majority, their overall commitment to religious freedom ensured peace in the subcontinent for two centuries. Shah Jahan was an avid supporter of art and architecture, and his monuments in Lahore are still admired in Pakistan today.
Tours for Mature Aged and Senior World Travellers
Pakistan Tours
This 22-day tour begins much like our 16-day tour of Pakistan, travelling from Karachi to Islamabad with a six-day extension that allows us to further explore the northern parts of the country.
Join 22,383 travellers receiving our weekly newsletter.




Special offers and promotions
$350 AUD travel voucher for your first trip
The latest tours and articles
The need to know
Touring Pakistan
Getting Around
Odyssey travels by coach and occasionally uses local transport, including trains and ferries. Specifics are always outlined in your tour itinerary. In the major cities of Pakistan, such as the capital of Islamabad, you can expect an extensive rail and bus network to use for longer travel, and taxis and even ride-share apps for shorter travel. Smaller towns and remote mountain villages will not have as extensive a transport network, and some are only accessible via private transport. We will be using private transport on our Pakistan trip.
Accommodation
In major cities, Odyssey stays in centrally located 3-4 star hotels, with easy access to public transport. In smaller towns or rural areas, we usually stay in family-run hotels or guesthouses.
Tour guides
Odyssey always engages local guides with regional knowledge to ensure an authentic experience during which you can learn as much as possible about the history and culture of places you visit.
Geography, environment & weather
Pakistan is a populous, multiethnic country in South Asia, bordered by Iran and Afghanistan (west), China (north), India (east), and the Arabian Sea (south). The total land area is 796,095 sq km, which is nearly twice the size of the US state of California. It is divided into three major geographic areas–the northern highlands, the Indus River plain in the center and east, and the Balochistan Plateau in the south and west–with the Punjab province in the Indus River plain as the most densely populated. Its highest point is K2 (Mt. Godwin-Austen) at 8,611 metres, the second highest mountain in the world next only to Mt Everest. Pakistan's climate is generally arid, which means there is little rainfall, and is characterised by hot summers and cool or cold winters, with variations depending on your location.
World heritage sites
Pakistan has six UNESCO World Heritage Sites to date. You can view the official list of the sites here. It is well worth visiting every site, if you are able. But here are a few highlights:
Mohenjo-Daro ("Mound of the Dead Men") is a major city of the influential Indus civilisation and was built around 2500 BC, contemporaneous with ancient Egypt and Minoan Crete.
Makli Hills, one of the largest funerary sites in the world. The necropolis covers an area of 10 square kilometres. It is home to various monumental tombs from different dynastic periods, and a site showcasing evolving funerary architecture.
Takht-i-Bahi ("throne of the water spring"), an Indo-Parthian archaeological site of an ancient Buddhist monastery. Located in the higher reaches of Mardan province, the monastery survived foreign attack and is still well-preserved.
Festivals & events
Pakistan is a majority Muslim country, so the Islamic religious festivals are observed in the country. Ramadan, marked by the observation of the crescent moon on the ninth month of the Islamic calendar, is the holiest month of Islam.
Two big festivals are held in the city of Lahore. Basant (Jashn-e-Baharaan) is held in February each year to welcome spring, while Mela Chiraghan ("Festival of Lights") mark the urs (death anniversary) of the Punjabi Sufi poet and saint Shah Hussain.
Reading list
Making Sense of Pakistan by Farzana Shaikh
In Other Rooms, Other Wonders by Daniyal Mueenuddin
The Idea of Pakistan by Stephen Philip Cohen
Pakistan: A Hard Country by Anatol Lieven
The Oxford Companion to Pakistani History
Eating & drinking
Pakistani cuisine is influenced by Persian, Indian (especially Mughal-era), and Middle Eastern culinary traditions, the dishes packed with herbs, spices, and complex flavours. Those familiar with these cuisines will not be surprised to find biryani, roti, naans, and kebabs served in Pakistani restaurants. Travellers who want to stay away from meat will be delighted to find vegetarian fare such as tarka daal (lentils mixed with spices) and baingan (eggplant curry). End the meal with a sweet and refreshing treat such as falooda, traditionally made from mixing rose syrup, vermicelli, sweet basil seeds, milk, and ice cream.
Health & safety
Many governments advise against travel to Pakistan, but the Pakistani government and tourism board is working hard to improve overall safety and increase tourism. For example, the Swat Valley, hometown of Nobel laureate Malala Yousafzai, was once the hotbed of terrorism but is now enjoying a steady stream of tourists. The Duke and Duchess of Cambridge also enjoyed a tour of Pakistan in October 2019. Checkpoints and the sight of security personnel may be overwhelming, but they are there to keep you safe. Pakistanis are also known for being very hospitable, and may even invite you into their home for dinner.
Electrical supply
Whenever you travel overseas, it's always wise to take an appropriate travel adaptor. Pakistan accepts plugs of type C and D, and electricity runs at 230V/50Hz.
Articles about Pakistan published by Odyssey Traveller.
For all the articles Odyssey Traveller has published for mature aged and senior travellers, click through on this link.
External articles to assist you on your visit to Pakistan.
Responsible travel tips for Pakistan
Learn at least the local greetings to break the ice. Although some locals speak English, the more you know of the native language, the greater your experience of the country will be.
Carry a business card in your wallet or purse from your local hotel, to assist you with the return journey if you do become lost.
Always ensure that you are covered by travel insurance. If you need advice on this feel free to contact Odyssey and we'll be able to help.
Before departing, make sure you have Pakistan rupee in a range of denominations. You don't want to be carrying around enormous amounts of cash, but take enough to make it easy to pay in locations that might not accept credit card. It will also help you avoid card transaction fees, and it makes tipping a breeze.
When travelling independently, make sure you check the opening hours of shops and museums so that you don't miss out! Also be certain to check whether your trip coincides with any public holidays, so you can plan accordingly.
Before departing on your trip, contact your bank to inform them that you may be making purchases overseas. Otherwise, they may flag any activity on your account as suspicious. Also, check which ATMs and banks are compatible with your cards, to ensure you can withdraw cash with minimal fees.