The Delicate Art of Art Restoration
Mishaps and Controversies
The Delicate Art of Art Restoration
The Netherland's Rijkmuseum recently announced that it will be restoring Rembrandt's The Night Watch, its most famous and most treasured painting by the Dutch master. Rembrandt's group portrait masterpiece, completed at the height of the Dutch Golden Age, was last restored 40 years ago and is already showing discolouration and blanching. The restoration promises to bring back the vividness of the painting's colour, ensuring that it can continue to be viewed and appreciated by generations of art lovers.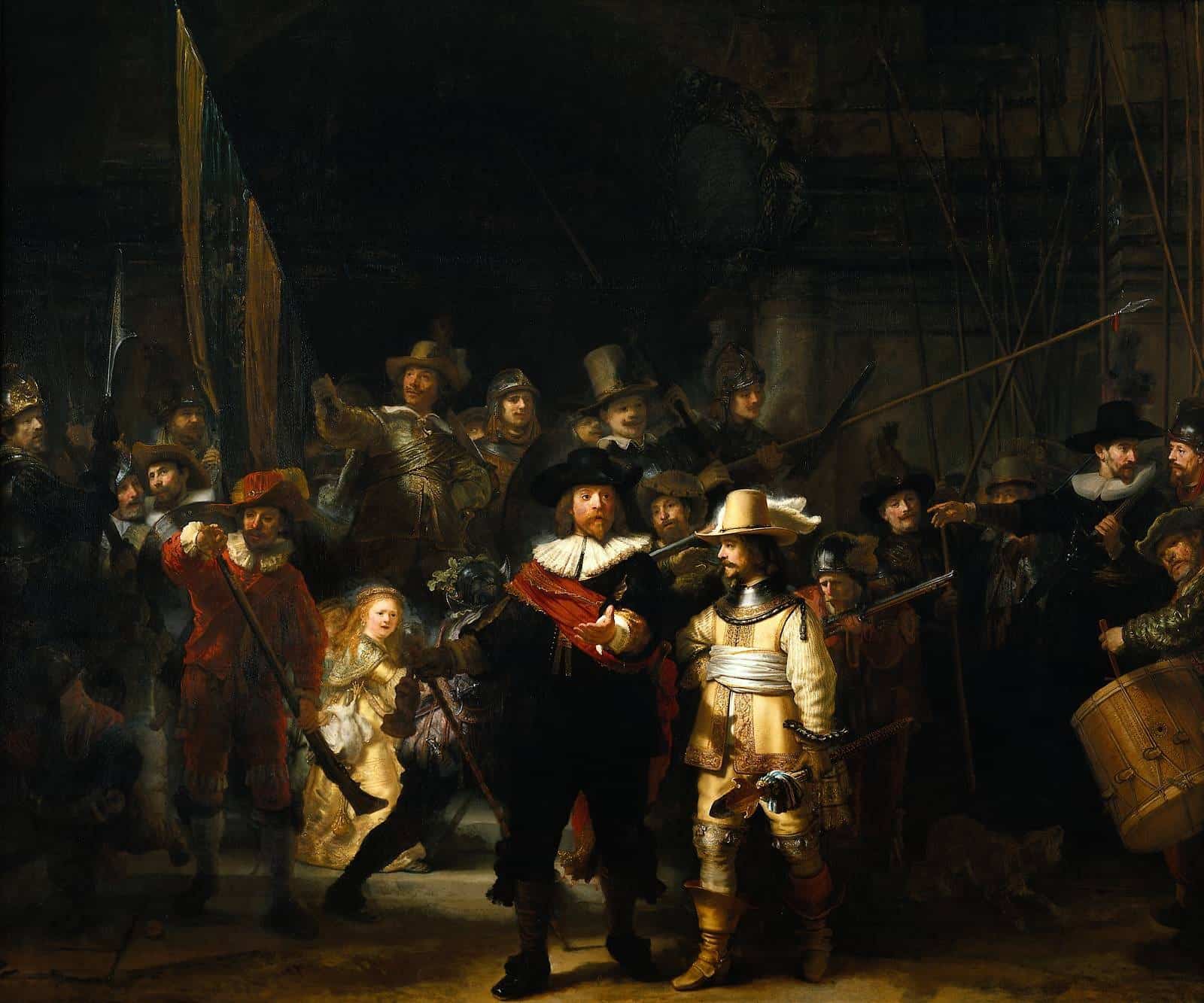 The intricate restoration process, using computer analysis and state-of-the-art imaging techniques, will begin in July 2019 and will be viewable both online through a video livestream and in person in the gallery itself. A clear glass chamber, currently being constructed, will encase the conservators, allowing museum visitors an intimate, front-row view of the historic process.
Update July 2019: The initial 10-month research stage is now underway, which will be followed by the restoration. You can watch it all here; the link also includes interviews with experts and a video about the 1946-47 restoration of the Rembrandt painting. Embedded below is a sped-up video (1 minute 20 seconds) of the meticulous construction of the seven-square-metre glass chamber. The video can also be viewed on YouTube. The second video (also on YouTube) shows how the painting is moved out of the way of the construction.
The Rijkmuseum's decision to make the process of restoration public and highly visible is novel–often, restorations are done away from the public eye, and we only hear about them when the restored art is unveiled and something has gone terribly wrong.
Subscribe
Receive a AUD$350 voucher towards your first small group tour
Join
Ecce Homo
The most infamous bungled art restoration effort in recent memory was the Ecce Homo painting in Borja, Spain. The fresco by the 19th century painter Elias Garcia Martinez was unintentionally ruined in 2012 by a well-meaning octogenarian parishioner named Cecilia Gimenez. Gimenez, hoping to restore the moisture-damaged painting to its former glory, painted over so much of the original that the fresco, which had hung in the church of Santuario de Misericordia for more than a century, became unrecognisable.
The depiction of Jesus Christ looked so disfigured (online it was alternately dubbed "Beast Jesus" or "Monkey Jesus") that representatives from the Centro de Estudios Borjanos initially thought that it was a victim of vandalism. The Centro received a donation from Martinez's granddaughter to restore the artwork and discovered what happened to the fresco during a visit to the church.
Gimenez claimed "she [worked] in broad daylight" and that the DIY restoration was approved by the local clergy. Unfortunately the damage proved to be irreversible.
But here's an unexpected silver lining: news about the painting went viral and drove tourists to the church to view the botched fresco, reviving Borja's local economy. In an effort to extend the painting's fame (or infamy), Borja inaugurated an arts centre dedicated to the painting in 2016, with the amateur elderly restorer  receiving a cut from all Ecce Homo-related merchandise sold.
16th Century St. George
Another well-meaning amateur art restorer in Estella, Navarre in Spain painted over a 500-year-old wooden sculpture of St. George on horseback, ending with the saint being compared to Tintin by commentators online. The comparison to the famous French comic book character comes from the cartoonish colours applied to the 16th century original, which until June 2018 had been sitting undisturbed for five centuries in San Miguel de Estella. The sculpture was only in need of cleaning, but instead of hiring professional restorers, the church hired Karmacolor, a furniture and children's arts and crafts company, who then gave the job to a local handicrafts teacher. The Association of Restorers and Conservators of Spain (ACRE) released a statement about the unfortunate incident and posted their denouncement on social media.
15th Century Mary and Jesus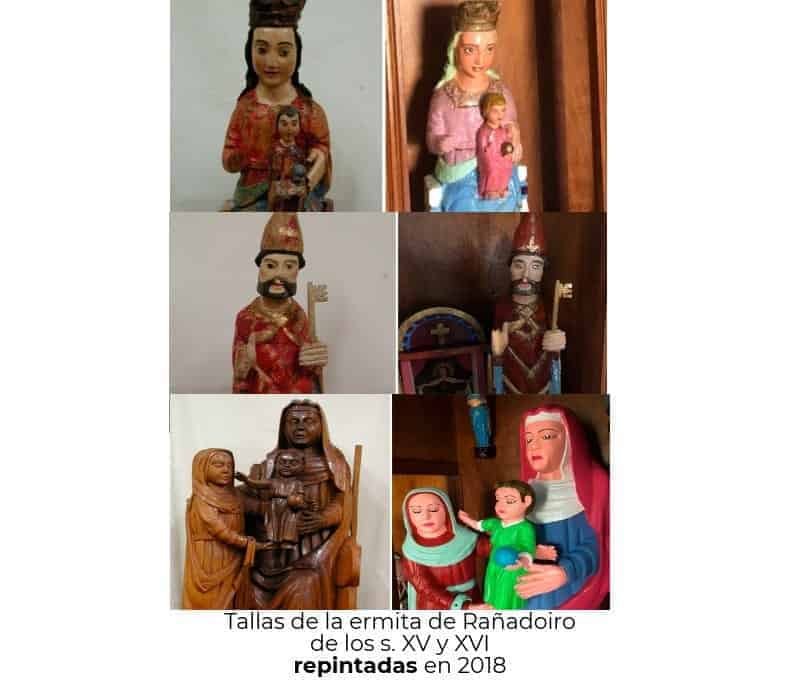 "Does nobody care about this continued plunder in our country?" asks an exasperated ACRE on Twitter in September 2018, following yet another botched art restoration, this time in the tiny village (population: 16) of El Rañadorio in Asturias, Spain. A local shopkeeper decided to give a makeover to a set of 15th-century wooden statues in the chapel. Included in the set is a statue of St. Anne, St. Mary and the Infant Jesus, which were painted over in bright colours. The shopkeeper, who said "these images really were in need of a painting", gave the Virgin Mary eyeliner and purple lipstick.
Art Restoration Techniques
We'd be hard-pressed to find an amateur art restorer who can do a perfect restoration of a work of art–even professional art restorers, hired to repair art damaged by time, accidents, or vandalism, walk the thin line between restoring an original piece and staying true to the artist's vision. This is a difficult task due to several reasons: materials change with time no matter how well the piece is conserved, the artist is deceased and there may be no existing record of the art's undamaged appearance, and past conservation or restoration techniques may have already damaged the piece. For example, in the 17th and early 18th centuries, the Sistine Chapel was restored using "wine and sponges made of bread".
Art restoration and conservation is a painstaking process that requires skill, patience, and knowledge of chemistry. Every inch of the artwork is examined and every step is documented.
Different art works may require different methods, but restorers and conservators use these common techniques.
Varnish Removal: This involves removing cracked or yellowing varnish (for pre-1940s paintings) with a solvent carefully applied so as not to remove the original paint underneath.
Cleaning: To remove smoke and grime, restorers use either chemicals, adhesive, or compressed air. Cleaning with lasers is also a tried-and-tested method.
In-painting: With this method, a restorer identifies an area that is missing paint or suffering from colour loss due to age, and fill in that space with identical pigment. Modern techniques adhere to the principle of reversibility; restorers use varnish called an "isolating varnish" before adding new pigment. In this way, errors can be easily reversed, and new paint will not touch the original pigment.
"Integral" Restoration vs. "Purist" Restoration
But where do you draw the line? Yuriko Saito (1985) in The Journal of Aesthetics and Art Criticism describes two schools of thought regarding art conservation.
Those in favour of so-called "integral" or "conservator" restoration allow…additions in order to restore the aesthetic appeal of the object…Those who advocate a "purist" restoration put absolute emphasis on the authenticity of the object thus only allowing the "cleaning (of) works of art and…reattaching (of) original pieces which may have fallen off." They repudiate any other modification…argu[ing] that the end-product with such modification will be a kind of forgery which…does not have the same aesthetic value as the original, no matter how closely it resembles the original. (Saito, 1985)
There are, even among professional restorers in the arts world, arguments about the "right" way to do a restoration.
Let's take a look at other restoration controversies.
Black Madonna Turns White
For almost 500 years, pilgrims travelled to Chartres, France to worship the Black Madonna inside the Chartres Cathedral. During the restoration of the cathedral, however, church authorities decided to remove the "unsightly coating" from the wooden statue, and scrubbed off the soot from burning candles that for 800 years had coated the church's walls, windows, and statues, including the Madonna.
The restoration was completed in 2017, and now the Black Madonna is white. As Benjamin Ramm reports, "To some critics, the repainting has erased a cultural memory from a building its restorers say they are saving." Martin Filler calls the restoration "scandalous" and says "the startling change in colour and tone at Chartres felt particularly misjudged".
Cleaning Michelangelo's David
In 2003, Agnese Parronchi, the restorer hired to clean Michaelangelo's David in Florence's Galleria dell'Accademia, resigned to protest the wet cleaning method preferred by the Accademia's director. Parronchi herself favours the slower (and, she attests, safer) "dry" method using cloth, brushes, and cotton swabs. More than 50 art historians signed a petition siding with Parronchi, but the Accademia continued with the wet method, prompting art critic Jonathan Jones to announce, "the people responsible for protecting works of art are competitive, dogmatic and dangerously ready to intervene in things of immense fragility." A cleaned and more "luminous" David was unveiled in 2004.
Da Vinci's "too bright" The Virgin and Child with Saint Anne
Here's another art cleaning scandal that led to high-profile resignations: in 2011, the Louvre's director of conservation, Ségolène Bergeon Langle and director of the Department of Painting, Jean-Pierre Cuzin, resigned following the  "overcleaning" of Leonardo da Vinci's The Virgin and Child with Saint Anne, leaving Saint Anne looking bright compared to the sombre colours of Da Vinci's other paintings in the Louvre collection such as the Mona Lisa and Saint John the Baptist. Cuzin said in an interview in 2012 that it "disrupts the harmony of the group".
Da Vinci's two-thumbed Salvator Mundi 
In 2008, an old painting of Christ called Salvator Mundi ("Saviour of the World") was authenticated as a Da Vinci original. Dubbed the male Mona Lisa, it made auction history by selling at Christie's for US$450.3M, making it the most expensive painting ever sold at auction.
But it's unveiling this year at the Louvre Abu Dhabi was "mysteriously" postponed. Thomas Campbell, former director of the Metropolitan Museum, contends that Salvator Mundi has been over-restored, the in-painting changing the painting's tone and obscuring, as Jonathan Jones puts it, "a very pure Leonardo". Jones asks: "Why didn't [the restorer] leave the painting in its raw yet beautiful state after it was stripped down? Wasn't that an incredible object in itself?"
A tell-tale sign of the "obscuring", Jones relates, was the disappearance of Christ's two right thumbs in the painting. This is called a "pentimento":
The word pentimento is derived from the Italian 'pentirsi', which means to repent or change your mind. Pentimento is a change made by the artist during the process of painting.

These changes are usually hidden beneath a subsequent paint layer. In some instances they become visible because the paint layer above has become transparent with time. Pentimenti (the plural) can also be detected using infra-red reflectograms and X-rays. They are interesting because they show the development of the artist's design, and sometimes are helpful in attributing paintings to particular artists. Source: The National Gallery UK
The restored Salvator Mundi only has one thumb, Da Vinci's second thought erased.
Visit Rijkmuseum and Amsterdam
Perhaps these controversies are what led the Rijkmuseum to go public with The Night Watch's restoration. In any case, it would be an incredible process to watch. The research project began on the 8th of July 2019, during which the painting will be visible through the glass chamber. The Night Watch Gallery is open daily from 9 to 6 pm. Click here for more information.
Odyssey Traveller's fully escorted small-group Dutch Tulip tour and Belgium, Netherlands, France, Germany art tour next year has stops in Amsterdam and the Rijkmuseum, giving you a chance to view the famous painting and perhaps even watch the restoration in person.
Spend six (6) nights in The Netherlands on this small-group Dutch Tulip tour. The tour provides travellers with a taste of the country's many delights, with the Keukenhof flower garden as the main focus. The Keukenhof garden has some seven million bulbs planted each year to present a truly spectacular festival of colour. This blend of tulips, daffodils, and hyacinths fills over 32 hectares of flower gardens with colour and fragrance on an almost unimaginable scale.
Our 21-day Belgium, Netherlands, France, Germany art tour tour is designed to help couples and solo travellers discover the best new art works and museum pieces. This art tour for mature travellers begins in Amsterdam and ends in Cologne. In total, the tour stops in nine locations in Belgium, Netherlands, France, and Germany. Travellers stay at each of these locations for an average of two nights. Important tour stops include Amsterdam, Rotterdam, Antwerp, Bruges, Lille, Brussels, Maastricht, Dusseldorf, and Cologne.
Click through to see the full itinerary and sign up!
About Odyssey Traveller
Odyssey Traveller is committed to charitable activities that support the environment and cultural development of Australian and New Zealand communities. We specialise in educational small group tours for seniors, typically groups between six to 15 people. Odyssey has been offering this style of adventure and educational programs since 1983.
We are also pleased to announce that since 2012, Odyssey has been awarding $10,000 Equity & Merit Cash Scholarships each year. We award scholarships on the basis of academic performance and demonstrated financial need. We award at least one scholarship per year. We're supported through our educational travel programs, and your participation helps Odyssey achieve its goals.
For more information on Odyssey Traveller and our educational small group tours, visit our website. Alternatively, please call or send an email. We'd love to hear from you!
Related Tours
Our small group guided tour in the Netherlands provides us with a delicious taste of its delights. We view the main sights of old Amsterdam, a World Heritage Site, first on foot and then from the comfort of a cruise along its 17th century canals. Our exploration of Dutch gardens includes the Hortus Botanicus, an impressive university garden. Timed to enjoy what is perhaps the highlight of the program – a visit to Keukenhof's bulb gardens. They contain more than 7 million tulips, daffodils and hyacinths which fill over 32 hectares.
This small group escorted educational tour combines visits to France, Belgium, Luxemborg, the Netherlands, and Germany. During the 26 days, we will discover a selection of the finest gardens and chateaux in Europe. Our destinations also include several UNESCO World Heritage Sites, for example the royal palaces built by the Prince-Bishop of Cologne in Brühl, Germany.